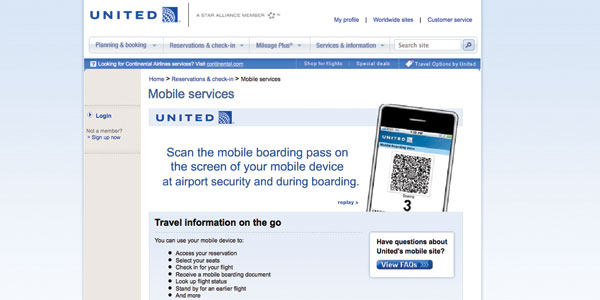 The expansion of mobile check-in and paperless boarding means that United passengers with international itineraries will be able to make use of the initiatives for the first time.
Customers will be able to check-in via the carrier's website using a web-enabled mobile device, while the 2D bar code mobile boarding pass option is now also available to passengers departing from London, Munich, Amsterdam, Brussels, Geneva, Zürich, Moscow and Osaka.
This will shortly be further expanded to include Frankfurt, Tokyo Narita and Hong Kong.
Martin Hand, Vice President of Customer Experience, said: "The expansion of our mobile check-in feature and paperless boarding option to international travel enables our customers to enjoy even more flexibility and control throughout their travel experience."
United currently offers paperless boarding at 62 US airports, while Continental Airlines, with which United merged last year, currently offers the mobile boarding pass option at 70 airports.
For more information, visit the United website.