"Passengers and airlines have embraced the self-service options offered at YVR"

– Paul Mewett, director, Simplified Passenger Travel, Vancouver Airport Authority.
The importance of offering a seamless and efficient airport experience for each of Vancouver International Airport's (YVR) passengers is highlighted by Vancouver Airport Authority's dedication to continually exploring and investing in new self-service technologies.
"Self-service continues to evolve and we want to be at the forefront of new self-service options for our customers," said Vancouver Airport Authority's Paul Mewett, Director, Simplified Passenger Travel.
"We work closely with our airline partners and government agencies and a recent example is our introduction of self bag tagging by passengers departing from YVR on domestic flights. In the future, we expect the self-serve trend to continue as we look for ways to streamline the entire activation and bag drop process."
YVR's use of self-service to enhance and simplify the passenger experience dates back to 2002 when the airport became one of the pioneers of common-use check-in kiosks. Since then, innovative remote check-in options have been implemented, while an expedited trusted traveller border entry programme – NEXUS – has been developed along with Canada Border Services Agency and US Customs and Border Protection.
Mewett said: "Passengers and airlines have embraced the self-service options offered at YVR. Passengers actually enjoy having control of all check-in and bag tagging functions. For both the Airport Authority and our airline partners, the impact to operations is substantial; we now see significantly fewer queues in the check-in lobby and savings in resources, due to the available self-service options.
"These savings allow carriers to grow their business without significant increases in staffing."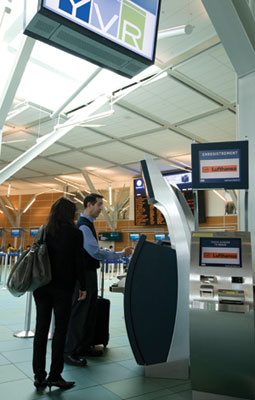 Offsite check-in
The offsite check-in options offered by Vancouver Airport Authority extend far beyond web and mobile check-in, with kiosk check-in offered at over 40 different offsite locations in Vancouver and Whistler.
"Additionally, YVR has been very successful in offering remote check-in at high profile events, such as the 2010 Winter Olympic and Paralympic Games, and other such events, not to mention we were the industry pioneer for onboard cruise ship check-in," Mewett said.
This cruise ship check-in concept was introduced in 2003 and allows eligible passengers to receive their boarding pass and bag tags on board the ship and the bags are then delivered to YVR, processed and loaded onto the outbound flight, so the passenger is reunited with their bag at their final destination.
Mewett explained: "When coupled with our leading edge 'US Direct' programme, which facilitates a transfer of passengers from 'Ship to Gate', passengers can save up to three hours in the overall process."
Self-service expansion
In keeping with its status as a leader in simplifying passenger travel, YVR now plans to continue to expand the self-tagging service to its International and Transborder sectors.
"We are also in the preliminary planning phase of re-designing our Domestic check-in area to better accommodate the passenger processes of the future," Mewett said. "Also on the horizon is the expansion of our successful Automated Border Clearance pilot that is available to returning Canadian residents. Currently over 50% of eligible users take advantage of this service, which will continue to increase as we add additional kiosks and as we look at opportunities to expand eligibility."
He added: "We look forward to sharing our vision and designs at the Future Travel Experience conference later this year."