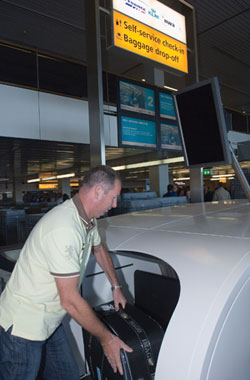 Amsterdam Airport Schiphol has around 90 kiosks, most of which are for common use. In addition to these, there are 50 kiosks used exclusively by KLM and its partners.
As part of the emphasis on self-service innovation, KLM and Schiphol have already run a pilot on passenger self bag tagging. "We ran tests together with PS/Bag/KLM on bags provided with home-printed tags. The trial yielded positive results. We see increasing the number of off-airport procedures as a positive development and as a way to accelerate processing times at the airport. We are currently consulting with the airlines to explore options for continuing the pilot," said Roel Hellemons, Director Operations, Schiphol Group.
Schiphol is working in close collaboration with various airlines on self-service innovations. In addition to its collaboration with KLM on self-service baggage drop-off, Schiphol and SAOC (Schiphol Airline Operators Committee) have launched a project with all SAOC airlines to promote the rollout of common use facilities.
Innovating the boarding process
Central to its efforts to enhance the passenger experience are gate improvements, including the G07 Innovative Gate – an entirely redesigned and refitted gate in Pier G, which opened in June 2010.
"The revolutionary use of elements such as lighting, images, design, dynamic information services and entertainment at the gate creates a pleasant, comfortable and welcoming environment for passengers. At the same time, it offers options for airlines to present themselves in a way that is distinctive, recognisable and features elements from their own corporate identity," explained Hellemons. "We intend to rollout the G07 set-up in coordination with the implementation of a centralised non-Schengen security filter. In addition to innovating the check-in procedure, our principal focus is on the gate."
Meanwhile, Pier C has been fully equipped to serve passengers as an extended office, with access to wireless internet and points to recharge mobile phones throughout the pier, and even up to the gate waiting areas. Premium passengers also enjoy use of a premium boarding lane that allows priority boarding.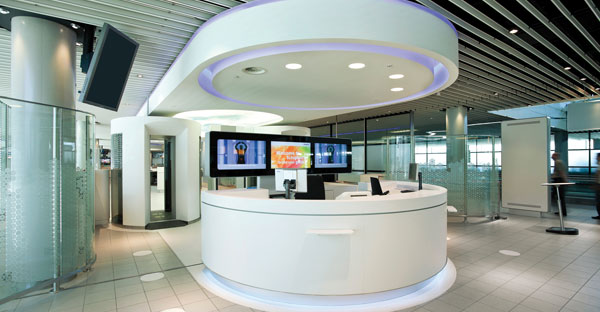 "As from 2008, business class passengers and frequent flyers travelling with KLM and other airlines in Departure Halls 1 and 2 have priority at the security filter passageway. This service has now been further rolled out and made available in Departure Hall 3 and at the NS-S and S-NS filters," said Hellemons.
Schiphol retains a one-terminal concept to ensure it remains passenger-friendly and easy to navigate, and its forward-thinking approach to innovation, particularly in terms of self-service technologies, demonstrates its commitment to enhancing the passenger experience.