As demand for self-service throughout the travel process continues to increase, innovative self-service bag drop and self-tagging solutions have been developed to further empower the passenger.
Amsterdam Airport Schiphol was one of the pioneers of the bag drop process, initially adopting it in 2008 and since then, following a successful trial period alongside KLM and BagDrop, self-service baggage drop off has been adopted on a permanent basis. In fact, on August 15, six of the latest-generation BagDrop units entered operation and by February 2012, a total of 12 new units will be installed in Terminal 2 for KLM and SkyTeam partners.
"The advantage of a self-service drop off unit is that it is always available," explained Roel Hellemons, Director Operations, Schiphol Group. "This means that a larger capacity is available, resulting in higher efficiency for passengers, the airline and the airport. Furthermore, the passenger is in control of their own process and can check-in their baggage within a short process time, which meets the passenger's needs."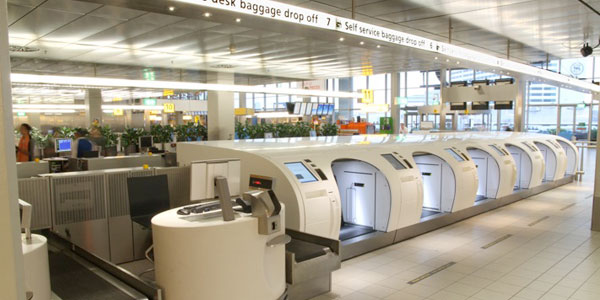 Ian Rasmussen, Director, BagDrop Systems, added: "The key performance indicator is the time taken for a passenger to drop a bag. This time continues to decline, from initially over 100 seconds, to now below 65 seconds on average, with frequent flyers as fast as 30 seconds. This covers the entire process, also printing and attaching the label."
As with the adoption of any new system in an existing airport environment, questions regarding implementation costs and the need for infrastructural changes also arise. However, both Hellemons and Rasmussen explained that the need for upgrades to airport infrastructure is minimal, as the units can simply replace the conventional check-in desks.
"A business case approach has shown that the costs of a self-service drop-off machine will be compensated by the efficiency that can be made with the implementation," Hellemons added.
Bag drop: Benefits vs Cost
While the benefits of self-service bag drop are clear, successful implementations to date have been exclusive to major airports. As well as the installation at Amsterdam Airport Schiphol, Air New Zealand has introduced the concept at the likes of Auckland and Christchurch airports, while Qantas has embraced baggage drop off via its Next Generation Check-In Program at major Australian airports. A six-month trial by BagDrop Systems at Zürich Airport is also nearing completion.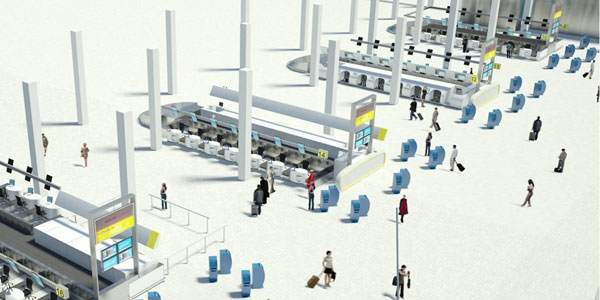 Although all of these airports handle significant passenger throughput in global terms, Rasmussen was keen to point out that the concept is also open to smaller airports. "Self-service bag drop has many benefits, among others, a very attractive business case. Another benefit is availability of check-in and drop off 24 hours a day, seven days a week, and also the option to provide drop off at parking places or other remote airport locations.
"All those benefits make it attractive for all airports and we are indeed in contact with multiple smaller airports who can also harvest great benefits from an installation."
So, as baggage processing becomes increasingly automated, will the future process become an entirely automatic process, with no need for interaction from airport staff? The answer, according to Rasmussen, is 'no'.
"There is always a need for a human element," he said. "I believe it will be possible to have non-supervised units with a nearby support desk, but there will always be the need for some kind of support for a small percentage of passengers, and that should not be forgotten in a service industry."