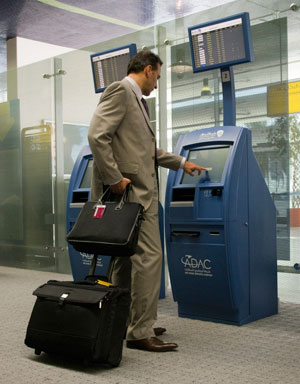 Abu Dhabi Airports Company (ADAC) has introduced self-service kiosks at Park Rotana Hotel in Abu Dhabi to allow passengers to check-in for their flight and print their baggage tags before they arrive at the airport.
The new check-in facility is the third remote check-in facility to be launched by ADAC for Abu Dhabi International Airport, following the introduction of kiosks at the Abu Dhabi National Exhibition Centre and Abu Dhabi City.
Harib Al Hameli, Vice President Operations, Abu Dhabi International Airport, said: "ADAC continuously seeks opportunities to develop its services and provide state-of-the-art facilities to all passengers.
"With the introduction of these new kiosks at Park Rotana, we hope to provide an even easier travelling experience for our customers from Abu Dhabi International Airport that is unique every step of the way."
More information can be found here.
ADAC will host ACI Airport Exchange 2011, 28-30 November, which includes conference sessions on the increasing role of automation, mobile technology and social media to enhance the airport experience.
Click here
for more information.