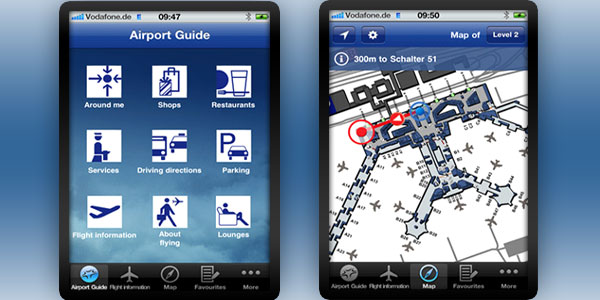 A number of major airports now have a dedicated smartphone app to act as an interactive guide for passengers both before and during their journey, and passengers have the opportunity to use these apps as wayfinding tools inside the terminal building.
Frankfurt Airport is among the airports to have recently launched such an app. Since its introduction in August, more than 50,000 iPhone users have downloaded it, and between 2,500-3,000 passengers make use of it on a daily basis.
The main features include information on getting to the airport, flight status updates, information on shops, restaurants and other airport service facilities, a parking recommendation tool and detailed maps to simplify wayfinding.
"We're also working on three new products for the future," explained Erwin Hoffman, business development manager, HVM Retail and Real Estate division, Fraport AG. "We're working on a new version of the iPhone app that will be launched in November, an Android version of the app, and a browser version, which can be used on all web-enabled phones because it's browser based."
While further improving wayfinding via the app is something that Fraport is exploring, Hoffman explained that having access to an electronic version of airport maps shouldn't be seen as a pre-cursor to the phasing out of permanent signage. "It will always be the case that you need signage," he said. "Airports are very busy places and people can be very stressed out if they're rushing for a flight. If you've got an electronic guide, this can make the process easier but it should be used to supplement signage, not replace it. In fact, if anything, airports should focus on continuing to improve signage."
Indoor geolocation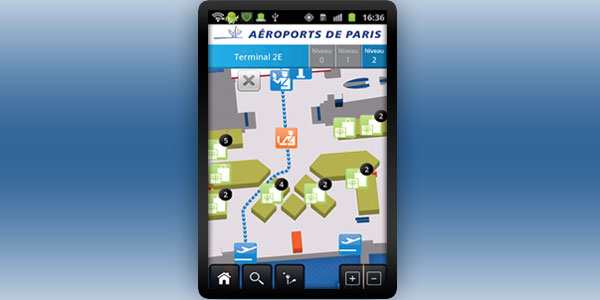 Aéroports de Paris is another airport operator to have embraced smartphones as a means of assisting passenger wayfinding and the 'My Way Aéroports de Paris' Android app makes use of indoor geolocation to guide passengers to points of interest over a 200,000sqm area in Paris-Charles de Gaulle Airport.
"With this app, you know where you are in the airport, it includes points of interest, it's totally intuitive, and it can direct you right to your boarding gate," said Olivier Tarneaud, head of marketing, Aéroports de Paris. The trial of the app has been so successful that it will now be introduced permanently and extended also to Paris Orly Airport.
However, while the benefits of the interactive wayfinding element are clear, Tarneaud commented: "This may be the future of wayfinding but it will never replace permanent signage."
He continued: "In society, you have three large segments. There are people that are total technology addicts; people who are the very opposite and don't like to use new technologies; and then the people in the middle. Technology will never replace humans and it will never replace signage in an airport. It's an additional option for people who enjoy technology."
Smartphones – "A remote control for your life"
However, even if apps will only supplement the more traditional wayfinding techniques, Fraport's Hoffman explained that there is still plenty of scope for the further development of apps to enhance the passenger experience. For instance, the app can be further personalised to suit the individual user; it can become a primary forum for dialogue and interactivity between the user and the airport; it may be used as a booking and payment tool for ancillary services; and it may also provide targeted information on shopping offers.
Hoffman added: "I once heard someone say in a discussion that the smartphone will become a remote control for your life, and to an extent, I agree with this."
So, even if it won't become the primary means of airport wayfinding, the smartphone app can still play an integral role in the overall airport experience.
Hear more on mobile innovation at ACI Airport Exchange and FTE Asia 2012.