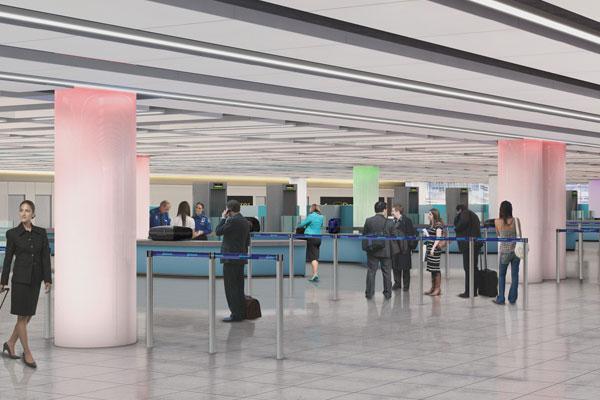 Gatwick Airport's new centralised security area includes 19 lanes and will allow almost 5,000 passengers to be processed per hour – increasing efficiency by one quarter. As well as 15 standard lanes, there are also two dedicated lanes for families with young children and passengers with reduced mobility, and two lanes for premium travellers. At present, the average passenger is processed in just one minute 47 seconds.
The lanes are colour-coded and feature screens displaying the actual queue time, enabling passengers to choose the fastest lane at any given time.
The state-of-the-art product makes use of face scanning technology and passengers are granted access to the security search area simply by swiping their boarding pass or smartphone on a reader.
Stewart Wingate, CEO, Gatwick Airport said: "We're committed to making the airport experience an easier, speedier and less stressful experience for our passengers. The opening of the new South Terminal security area is just part of a £1.2 billion investment in Gatwick Airport, as we continually look to innovate and deliver solutions that will provide real benefit for passengers."
A spacious preparation area has been positioned ahead of the main security area specifically designed to help passengers prepare for the security process and large plasma screens offer instructions in five languages to help passengers understand exactly what they can and can't take through security.
More information can be found here.