While high-speed rail in Europe and Asia has developed at a rapid rate over the course of the last decade, development is North America has been relatively slow in comparison. However, driven by the Acela Express – which links Boston and Washington DC in the northeast corridor at speeds of up to 150mph – the viability of high-speed rail in the US has recently been proved.
Furthermore, this year, Amtrak has enjoyed record ridership and revenue, and according to Dee Waddell, Group CIO, Amtrak, in order to build on this, adopting new technologies is a fundamental part of the strategy for the future.
"We need to upgrade some of the infrastructure we have, particularly on the technology side, and one of the things we're doing is pushing out to our customers, as well as our workers, mobile technology," he said.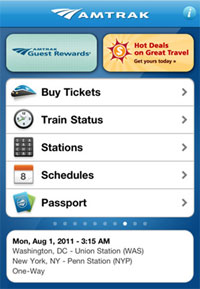 iPhone app
As well as a mobile website, Amtrak has recently launched a dedicated iPhone app, which allows customers to plan and book travel, modify reservations, check train statuses, connect to their Amtrak Guest Rewards account and more.
"I think in some regards we're transforming the industry with this, and definitely transforming Amtrak," Waddell added.
Working together
Although high-speed rail is often viewed as a competitor to domestic air travel, Waddell explained that looking at the "whole journey from a customer perspective" – from the moment the customer leaves their house to the moment they arrive at their destination – is vital to providing the best possible travel experience.
Referring to the relationship between the rail and air transport industries, he said: "I do see that we have to work together in terms of the customer experience and I think that we each have our unique advantages; airlines have their unique advantages, rail has its unique advantages, and so do other forms of transportation as well."
While significant differences inevitably exist between rail and air travel, such as the speed of the journey and the check-in processes, bringing them together to "create one unique experience is really the challenge and the opportunity that the industry has".
Should the two forms of travel be more closely linked with the benefit of the passenger in mind, this could pave the way for an integrated and enhanced travel experience in the future.