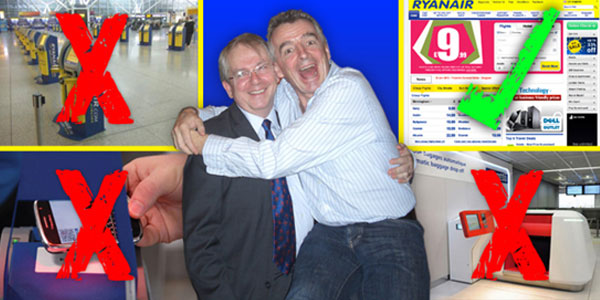 As low-cost carriers continue to explore every possible avenue to reduce costs, a number of them are starting to think radically to make savings, with self-service emerging as a common theme. However, one person who clearly isn't a fan is Ryanair CEO Michael O'Leary. FTE correspondent Ralph Anker, Editor of our sister publication anna.aero, made the most of a rare opportunity to ask the typically opinionated O'Leary for his views on self-service, mobile boarding and IATA's Checkpoint of the Future…
FTE: Ryanair previously invested heavily in kiosks before moving check-in completely online. Do you regret this investment in kiosks?
MOL: Not at all. We bought a total of 80 kiosks for a 300-fleet airline. We put the kiosks into Stansted originally, where they were very successful for a period of time. The issue for us was that Dublin Airport turned around and wanted to charge us for space to put the kiosks in there when we've already paid for the terminal through the passenger charges, so why are we paying again? So, we then refused to buy any more kiosks, which was the sensible thing to do, and instead we moved check-in back onto the Internet, because what the hell does a kiosk do that you can't do on the Internet? We were the first to move all of the check-in back onto the Internet because now 99% of passengers check-in online, but we still have some kiosks in Stansted. We spent very little on kiosks, less than €100,000.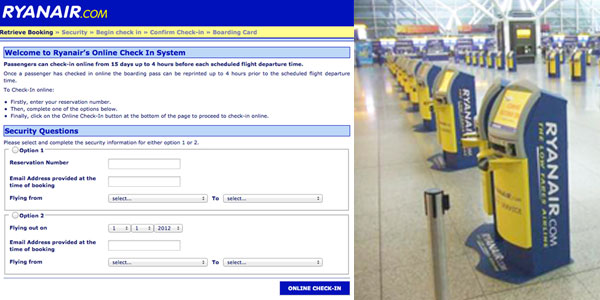 FTE: Even when passengers check-in online, if they have baggage to check-in, they still have to queue up at bag drop counters. What are your plans to combat this with self-service bag drop?
MOL: None. There's no way we'd ever let passengers loose on a self-service bag drop. They'd be losing the bags themselves. The key thing with us is only 25% of passengers are now checking-in a bag. We've actually got rid of the queues for checked-in bags and even at bag drop they're tiny.
FTE: Have you heard of IATA's Checkpoint of the Future? Does it represent a step forward?
MOL: No, I haven't heard of it, but if it's been developed by IATA I'm not too excited about it.
FTE: What are Ryanair's plans regarding mobile boarding passes?
MOL: None, because again it does nothing. If you've printed out your piece of paper from the website, what does the mobile phone do for you? Nothing.
While self-service and utilising mobile technology might not be a priority for Ryanair, a number of other airlines are exploring the benefits in order to satisfy their growth projections. At FTE Asia 2012, February 8-10, more than 20 speakers from the likes of AirAsia, Emirates, SAS Scandinavian Airlines, Air France KLM and Virgin Australia will address delegates on a range of themes including self-service, innovative baggage and passenger processing initiatives, mobile technology and NFC, and the airport of 2025.
>> View the full FTE Asia 2012 conference programme