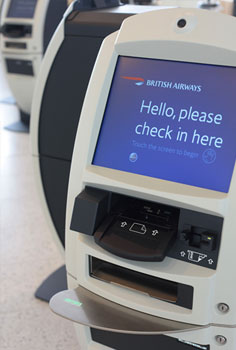 British Airways has introduced self-tagging facilities at London City Airport. It is the second implementation of self-tagging by British Airways, following the introduction of self-tagging at Gatwick Airport's North Terminal extension in October.
The technology – which has been designed in-house by British Airways – allows passengers to print their baggage tags at a kiosk, before dropping their bags at a bag drop desk.
John Scarff, British Airways Ground Service Manager, London City Airport, said: "We are delighted that London City has been chosen to have this new technology. At an airport where the unique selling point is a quick and easy journey through the terminal already, this can only improve the customer experience.
"Many of our customers appreciate the opportunity to do more for themselves, like self-service check-in, choosing seats and printing their own boarding cards – now for the first time they will be able to print their own bag tags. We're giving them the freedom to be in control, but with the knowledge that our customer service staff will be on hand if they need them."
Richard Gooding OBE, CEO, London City Airport, added: "We welcome the launch of this new innovative technology which further strengthens our commitment to transferring passengers to their destination with ease and speed."
» More information can be found here.