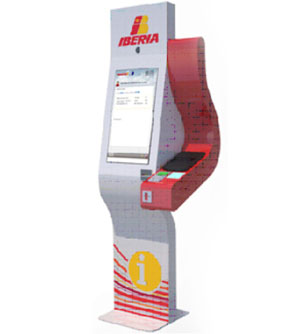 Spanish flag-carrier Iberia is planning to install 22 'Quick Service Points' in Madrid-Barajas Airport's T4 and T4S to provide information and assistance to passengers.
The interactive multimedia information pillars in the departures and arrivals zones will provide real-time information and will help to reduce queues throughout the terminals.
In the arrivals area, passengers who have missed connecting flights will be able to use the Quick Service Points to obtain a boarding pass for the next flight. Passengers will also be able to use them to find out which belt to collect their luggage from and can also report delayed or lost luggage. Real-time flight information is also available via the kiosks.
The installation of the Quick Service Points is part of Iberia's 'Ágora' project, which is aimed at raising efficiency, increasing punctuality and improving the overall travel experience. The kiosks also meet the standards of IATA's Fast Travel project.