Enhancing the passenger experience and reducing operating costs are often considered mutually exclusive, but thanks to an innovative kiosk that makes use of telepresence technology, passengers will soon be able to speak face-to-face with a human agent who is in fact based remotely.
The use of telepresence technology allows for passengers to speak directly with a human agent via videoconference using a dedicated kiosk in the terminal concourse. Rather than having to queue at a desk to speak to an airport or airline agent, passengers can instead use the dedicated FacePort kiosk, which has been developed by the Amsterdam Airport Schiphol-based company, FacePort.
The introduction of the system follows the recent introduction of InfoGates to Munich Airport, which make use of videoconference technology to allow passengers to obtain wayfinding information to help them navigate around the terminal. However, the designers of the FacePort system explained that it can be used for more than just wayfinding.
Remotely based human agent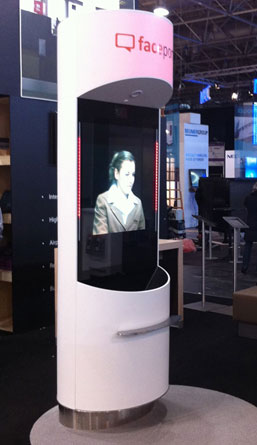 "A lot of airports and airlines can't necessarily afford to have the level of human interfaces that they would like," explained Peter Slutter, co-founder of FacePort.
However, FacePort allows for a human agent to be used from a remote location. The benefit of this is that the same agent can be used to deal with passenger enquiries across a number of different airports.
"Say, for instance, an airline serves 10 destinations from its base," Slutter continued, "a FacePort kiosk can be placed in each of the destinations, with one human agent managing all of the enquiries.
"Also, in a departure hall, you might have 25 self-service kiosks, but you currently still need to have agents roaming around to deal with any enquiries. However, if you put one FacePort kiosk in the self-service area, you wouldn't need the roaming agents and could instead rely on the remote agent."
Elsewhere in the airport, FacePort could also be used to grant access to lounges, Slutter added, by allowing the passenger to present their boarding pass or loyalty card via videoconference to the remote agent, who could then allow access.
The future of face-to-face service?
While the FacePort concept has only just been revealed, Slutter explained that a lot of interest has already been expressed by airlines and airports and the company will soon develop a trial programme for the system.
Although it's in its infancy, with a promise to enhance the passenger experience while reducing operating costs through a reduction in resources, FacePort could signal the start of an era of remotely based face-to-face communication between the passenger and airlines/airports.