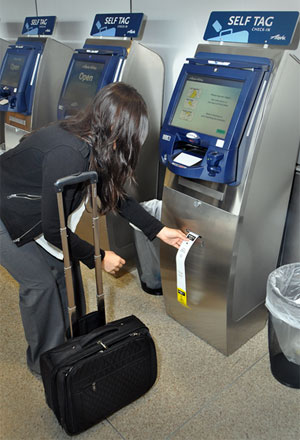 Alaska Airlines and Seattle-Tacoma International Airport have partnered on a new self-tagging initiative, allowing passengers to print and attach their own bag tags.
Passengers can print the tags at kiosks and then they simply have to attach them and deposit the bag at a bag drop counter, where it is screened and processed through the baggage handling system.
Alaska Airlines' decision to launch self-tagging at Seattle-Tacoma International Airport follows a successful deployment of the kiosks at Redmond/Bend Airport in Oregon last year.
Jeff Butler, Vice President of Customer Service – Airports, Alaska Airlines, said: "Customers who have used the service are delighted to be able to help themselves by tagging their own bags, dropping them off and going on their way. We are committed to making Alaska the easiest airline to fly on and self bag tagging is another step toward that goal."
Other initiatives recently completed as part of the airline's customer-focused drive include the launch last month of a new mobile website that allows passengers to access their boarding pass via a mobile device, and the recent introduction of the TSA PreCheck programme at Seattle-Tacoma to expedite security screening for pre-registered travellers.