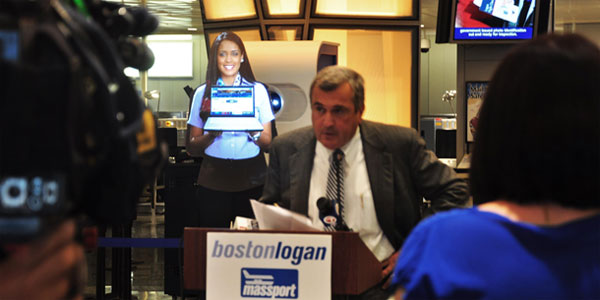 Boston Logan International has become the latest airport to deploy a virtual assistant to assist passengers through the security screening process.
The adoption of the technology follows similar installations at London Luton and Manchester airports, as well as an installation at Frankfurt Airport in December.
The bi-lingual 'virtual greeter' is located in Terminal E and delivers messages in English and Spanish on ID and boarding passes, regulations on liquids, aerosols and gels, and instructions regarding garment removal as passengers approach the x-ray security screeners.
"Safety and security is our number one priority, and good security means good customer service," said Ed Freni, Director of Aviation, Massport (Massachusetts Port Authority). "This new virtual greeter gives us an opportunity to collaborate with the TSA on a more efficient security checkpoint by educating passengers ahead of time on the dos and the don'ts of security screening. Our best asset in making the security screening process move along faster is an informed and prepared customer."