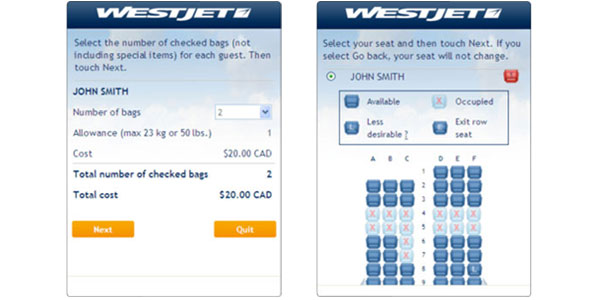 WestJet has updated its web, mobile and kiosk check-in service with the addition of a number of new functions.
Across all three platforms, passengers can now pay excess baggage fees as part of mobile and web check-in (this feature was already available on kiosks); move to an earlier flight on selected routes; re-enter the check-in process to reprint boarding passes and change baggage information; and print boarding passes and baggage tags in a single transaction at select airports where self-service bag tagging is available.
"We're pleased to unveil these new applications as part of WestJet's commitment to a remarkable guest experience," said Bob Cummings, WestJet Executive Vice-President Sales, Marketing and Guest Experience.
"These applications offer big improvements to the check-in flow, as well as increased kiosk usability, which is a benefit to both our guests and WestJetters in our airports.
"We believe that as demand grows for guests to customise their travel to suit their needs, so too will the number of guests using our self-service options."