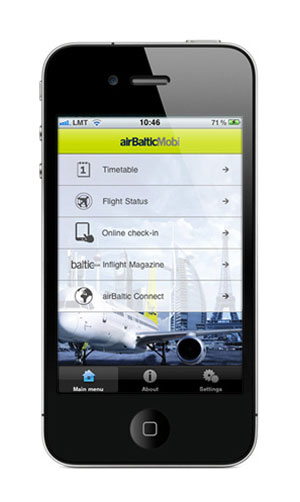 airBaltic is to introduce a range of improvements to its online and mobile check-in facilities. From 1 February, passengers will be able to use the self-service check-in service until an hour before departure, instead of the current two hours.
The updated airBaltic.com, for online check-in, and airBaltic.mobi, on mobile devices, allow travellers to check-in on their way to the airport, or once they arrive at Departures. After completing self-service check-in, passengers with hand luggage can proceed straight to security, while baggage can be left at a designated baggage drop-off counter.
Michael Grimme, Chief Commercial Officer, airBaltic, said: "If all of our passengers used our online and mobile check-in service, they could potentially save up to 90 million minutes of their time annually and thus also contribute to reducing queues at airports. This is a considerable collective amount of time – more than 15 years – and we would like to encourage passengers to use modern technology. For this reason, we will improve our online and mobile check-in, and also introduce a fee for passengers who prefer personal check-in service at airports."
The airline still offers personal check-in to customers for a fee of €10.