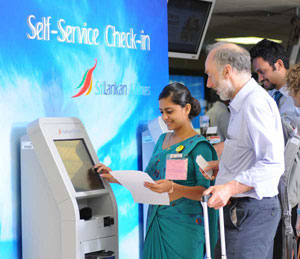 SriLankan Airlines has chosen Bandaranaike Internatonal, the country's largest airport, in which to introduce its self-service check-in kiosks.
The flagship carrier claims that through the kiosk, passengers can check-in by simply entering their ticket numbers, booking reference, FlySmiles membership numbers or by scanning the barcode on their digital ticket.
The kiosks will serve not only SriLankan, but other select airlines as well, and should passengers struggle with the system then staff are never too far away to lend a helping hand.
"We consider this a noteworthy move in our future plans to place SriLankan Airlines in an expedient position along with our planned entry to the Oneworld global travel alliance" SriLankan Airlines Chairman Nishantha Wickramasinghe said.
In addition to saving time with its basic check-in function, the kiosks will allow passengers to change their seat booking and print their own boarding pass, should they desire.