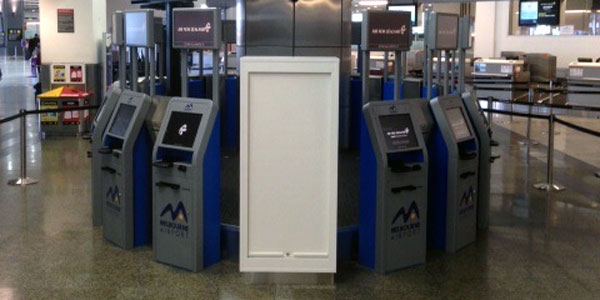 Australia's second busiest airport is to implement a range of self-service technologies to enhance the travel experience for its passengers. As part of a $1 billion airport-wide expansion, Melbourne Airport has partnered with global IT provider SITA to modernise its facilities with AirportConnect Open, SITA's common-use platform, which supports common use self-service (CUSS) kiosks, along with self-service bag-tagging and automated self-bag drop units.
"Over the next five years, we will invest more than $1 billion in our facilities to support passenger growth, and technology enhancements are a critical part of this investment," said Melbourne Airport CEO, Chris Woodruff. "We are really pleased to be introducing international self-service bag drop to provide our passengers efficient end-to-end self-service. SITA's technology will help us maximise our facilities, while also improving the overall passenger experience."
The new technology will enable the 25 international airlines operating at Melbourne Airport to offer self-service options to more than 29 million passengers who pass through the airport annually.
Initially 14 CUSS kiosks went live at the airport in May, and Air New Zealand is the first airline to provide international self-service check-in, and soon bag-tagging, via these kiosks. Later this year, in collaboration with baggage handling specialist BCS Group the airport is to introduce six new automated self-service bag drop units, which automatically scan a bag tag, reconcile the boarding pass, and weigh and measure the bag before dispatching it for the flight – all without the need for manual assistance.
Ilya Gutlin, SITA President Asia-Pacific, added: "Melbourne Airport has a history of using technology to transform its business. SITA's end-to-end self-service offering, combined with our strength in common use systems, will help enhance the journey for all Melbourne passengers. Passengers will benefit from more flexibility, while the airport will improve passenger flows and its ability to cope with peaks in traffic. Our collaboration with Melbourne Airport is another example of SITA's leadership in providing self-service technology for airports in Australia and around the world."