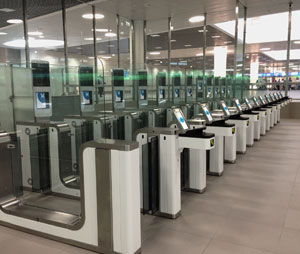 Lisbon Airport has installed 24 automated border control e-gates in the arrivals and departures areas of its main terminal.
The e-gates feature a two-step border control process where verification of the travel document is undertaken at the entrance to the e-gate, before facial recognition takes place once the passenger enters the e-gate.
As well as offering e-passport verification, the e-gates can also process passengers with the Portuguese National Citizen Card and non-e-passport holders in conjunction with pilot projects implemented for Brazilian and Angolan nationals.
Manuel Palos, National Director of SEF (the Portuguese Immigration and Border Service), said: "The new ABC e-Gates will allow us to optimise and streamline the border crossing process while maintaining the same level of security and border integrity."