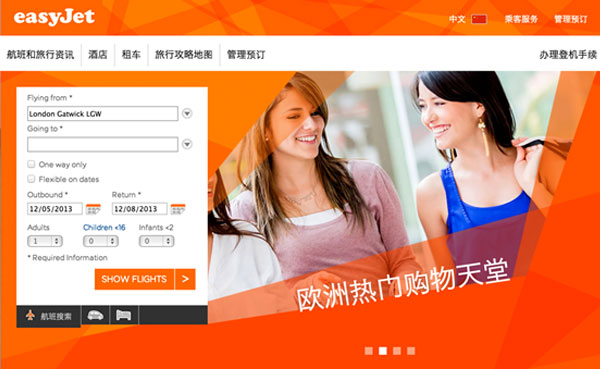 easyJet has launched a Chinese version of its website homepage to simplify the booking process for its increasing number of Chinese customers.
Content has been translated into simplified Chinese, while it also includes the 'Inspire Me' tool, which helps customers find the lowest fares. Visitors to the website can also connect directly to a Chinese version of Booking.com's website, easyJet's hotel partner, to help ease the booking process for the wider travel experience.
Carolyn McCall, easyJet's Chief Executive, said: "This year easyJet has seen a 25% increase in bookings from China versus 2012. Along with the other BRIC economies, the demand from Chinese customers is predicted to continue to grow over the coming years which means that, with a dedicated homepage, easyJet is ideally positioned to capture more of the market of the millions of Chinese who are travelling to and within Europe each year.
"Our aim is to make the online customer experience as easy as possible and national homepages help alongside innovative ways like easyJet's 'Inspire Me' tool to find the best flights."
easyJet's continued focus on enhancing the passenger experience has this year seen the airline launch mobile boarding passes and a new Flight Tracker tool.