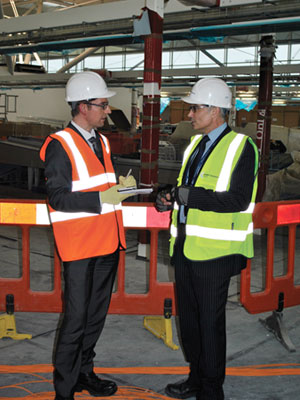 London Stansted is transforming its passenger experience under new ownership as part of its drive to offer the best passenger experience in London. After completing its £1.5 billion (€1.78bn) acquisition of the airport in February, Manchester Airports Group (M.A.G.) quickly announced details of a £230 million (€274m) investment programme to improve services and facilities for passengers.
On 6 December, London Stansted opened the first section of its new security search area, which is part of its current £80 million terminal transformation project.
Our tour took place just a few days before the opening, as final preparations were being made. It is clear to see that the development heralds a real step-change. Passengers will be struck by the prominent use of natural light in this first phase of the project, in which the security area has been relocated away from its central location to a new area twice the size – increasing to 5,000sqm – and flooded with natural light on the south side of the terminal building.
Neil Banks, London Stansted's Terminal Transformation Manager, explained that this new, more spacious location will increase the number of security lanes from 18 to 22 when complete, with dedicated lanes for families, passengers with reduced mobility and fast track for premium travellers.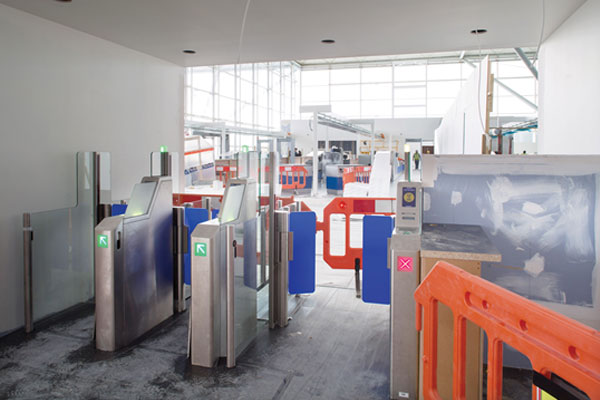 London Stansted is also embracing the latest technologies in its efforts to enhance the passenger experience; 20 self-service smart access gates will scan boarding cards before passengers enter the new security screening area, which is due to be fully operational by Christmas.
"It's been a challenging few weeks as we move from the old search area to the new location in time for the busy Christmas getaway, but with careful planning and a dedicated team working around the clock, I am pleased to say we have hit another major milestone on time," commented Banks.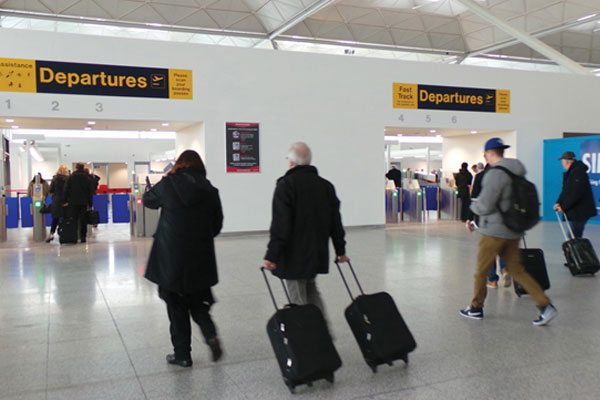 The passenger experience is at the very heart of the development, and it has been designed to reflect the way in which travellers use London Stansted's terminal facilities. More than 50% of the airport's passengers now check-in online and travel with hand baggage only. Mindful of this, Banks demonstrated how passengers will immediately see departures to their left as they enter the terminal building, so the intuitive wayfinding process makes it clear that, if they have checked-in online and only have hand baggage, they can head straight to security, which contributes to a smooth, simple passenger process.
Meanwhile, the transference area directly after security search will be five times bigger at 542sqm. Banks explained that this is a spacious, relaxing, calming area. Interestingly, M.A.G. has used research by psychologists to understand the points at which passengers feel confused, stressed and relaxed during their time at the airport. They also analysed changing trends and passenger expectations over recent years and in the future to inform the plans.
In a further enhancement at security, a virtual assistant is currently being trialled to convey information and smooth the process for passengers.
Looking ahead, phase two of the terminal transformation project will be launched in January and will see a complete redesign of the international departure lounge, providing a more intuitive passenger journey, additional seating, more flight information screens, and an enhanced retail and F&B offer. Floor space will increase by more than 60% to 15,248sqm. The fully transformed terminal will be complete in 2015.
While our tour of London Stansted Airport highlights some of the areas of focus, for the full story and detailed information on what the second phase of the project will entail, make sure you attend FTE Europe 2014, where Andrew Harrison, the airport's Managing Director, will deliver a keynote presentation on the subject: 'New ownership, new vision – transforming the passenger journey at Stansted under M.A.G.'
London Stansted Airport Managing Director Andrew Harrison will deliver a keynote address at FTE Europe 2014 entitled: 'New ownership, new vision – transforming the passenger journey at Stansted under M.A.G.' FTE Europe delegates can also register for a guided tour of London Stansted, which will be led by airport staff who will showcase the ongoing terminal transformation project.
» View the FTE Europe 2014 conference programme