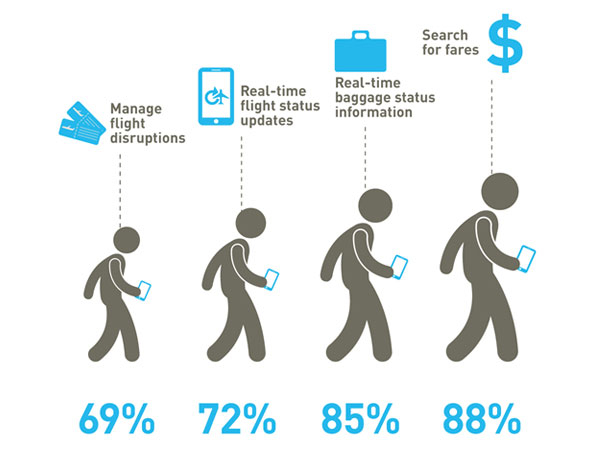 The vast majority of passengers want to be able to use their smartphone to manage flight disruptions, receive real-time flight and baggage updates, and search for fares, according to SITA's 'Smart Thinking' study. The report also shows that every airline and 90% of airports are investing in business intelligence solutions to provide the intelligent information across their operations in order to facilitate these services.
The report is based on global passenger research and also incorporates additional input from the likes of British Airways, Saudia, Dublin Airport Authority, London City Airport and London Heathrow.
The findings of the study show that 69% of surveyed passengers would use their smartphone to manage flight disruptions; 72% would use it for real-time flight status updates; 85% for real-time baggage status information; and 90% to search for fares.
In response, the majority of airlines and airports say they intend to offer smartphone-based flight updates by 2016, 61% will offer bag status updates, and 79% plan to offer flight and airport queuing status notifications within two years. More than three-quarters of airlines and airports surveyed also said they plan to offer mobile airport wayfinding.
Nigel Pickford, Director, Market Insight, SITA, said: "Our research has clearly shown that the move to smartphone apps and mobile services is well underway. But many of the services that airlines and airports are planning are heavily dependent on their ability to provide more meaningful data and insight – providing passengers and staff the right information at the right time.
"We asked airlines and airports to measure themselves in four categories of business intelligence best practice for this index: Data Access and Management; Infrastructure; Data Presentation; and Governance. Our analysis shows that on average the industry is only halfway to achieving best-in-class and further progress is needed."