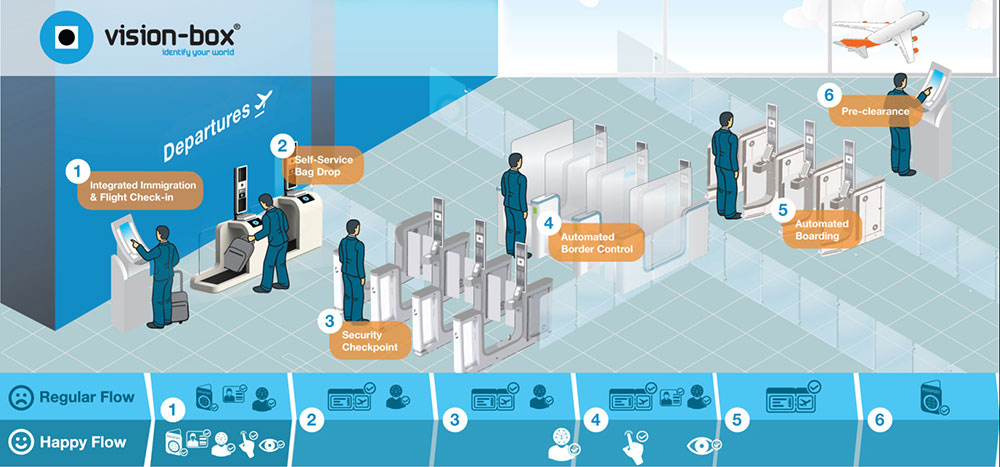 A trial of an innovative passenger processing system that uses biometrics as the key passenger token at airport check-points will take place at Aruba Airport later in 2014.
Labelled 'Happy Flow', the system makes use of facial recognition technology and state-of-the-art gates, and aims to enable a seamless, faster and more intuitive airport experience, which does not require them to present their passport and boarding pass on numerous occasions during their airport journey.
Confirmation of the trial was made at a special event held at Aruba Airport, where Vision-Box presented a demonstration of the concept. "This project is indeed a revolution in the airport ecosystem," said Jean-François Lennon, Director of Global Business Development, Sales & Marketing at Vision-Box. "For the first time ever, biometrics is being used as the main passenger identification token in an airport. Instead of using either a passport or boarding pass, the passenger swiftly goes through all airport control points where he simply has to have his identity checked by looking at facial recognition cameras."
The check-in process plays a central role in the concept. When a passenger checks in, their passport is validated and a photo of their face is taken. This information is then shared between airports, airlines and border authorities. This biometric information will then be used as the identifier at all other checkpoints, ranging from bag drop to boarding.
The trial will involve passengers travelling between Schiphol-owned Aruba Airport and the Netherlands. If a passenger is identified at the initial check-in process as being ineligible to enter the Netherlands, the airline will be immediately notified.
Lennon added: "The relevance of the pre-clearance initiative is world-ranging. It means these countries are building a broad-based platform for further cooperation and intelligence exchange, which will be a case study of world relevance for more cooperative, efficient and reliable border management around the world."
The Aruba Airport project was initially highlighted by the FTE Airports 2025 Think Tank. Inspired by the findings of this Think Tank, FTE has since partnered with Capgemini on the "Straight Through Travel" project, which aims to establish how the industry can achieve a single passenger token to create a walk-through, secure travel process. The initial findings will be exclusively revealed at FTE Global 2014, which will take place in Las Vegas from 24-26 September 2014.