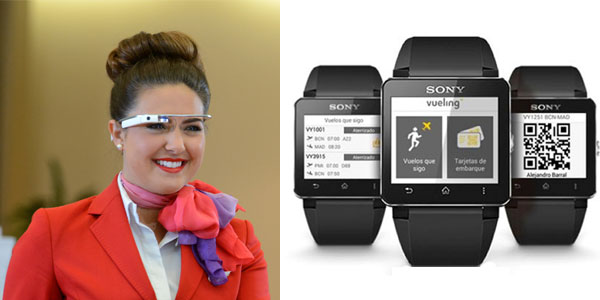 If you're looking for the travel sector's biggest new technology trend of 2014 so far, it is hard to dismiss wearable technology. Having previously been viewed as technologies of the future, airlines in particular have started to embrace smartglasses and smartwatches, elevating the technology right into the here and now.
Virgin Atlantic made the first move in February, announcing a trial of Google Glass and the Sony Smartwatch at the Upper Class Wing at London Heathrow Airport, using the products to greet passengers by name, provide real-time travel information and start the check-in process before the passenger even reached the front door of the terminal.
Since then we have seen Vueling, Iberia and airberlin launch smartwatch boarding passes, while Allegiant Systems has revealed its Vuzix-based smartglasses concept. London City Airport has also confirmed that it is exploring how it can leverage Google Glass from an airport operations perspective.
"Our technologies are evolving from desktop, to portable and mobile, to wearable," Rohit Talwar, CEO of Fast Future Research told delegates at FTE Europe in March. This evolution is very much in full swing and if airlines, airports and the industry's suppliers don't recognise its relevance, they risk losing vital ground to their competitors.
What do we already know about wearable technology in the travel sector?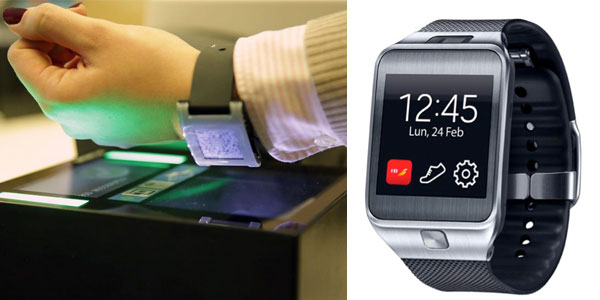 The smartwatch boarding passes have only been available for a few weeks, so feedback is minimal, and as they rely on the consumer owning a smartwatch, uptake is likely to remain low in the foreseeable future.
However, the recently completed trial undertaken by Virgin Atlantic and SITA Lab at London Heathrow has thrown up some very useful findings. Tim Graham, IT Innovation and Development Manager at Virgin Atlantic, explained that feedback was "really positive". Importantly, passengers were generally very supportive of the technology being used to help simplify their airport experience, while the agents themselves "like the fact that it's reduced the amount of paper they have to carry and removed the need for use of radios for communication when allocating jobs". One of the key drawbacks was the connectivity issues experienced from time to time; something that can be overcome, though, thanks to the array of connectivity options available in the terminal, such as Wi-Fi, Bluetooth and 4G.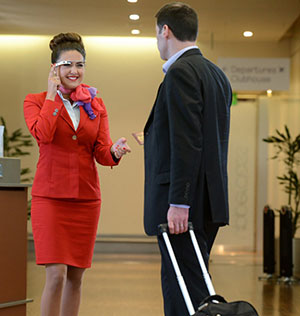 Using smartglasses and smartwatches as enterprise devices
The positive all-round reaction to this trial is very significant, as is the fact that the wearable devices were used by the airline's staff and not directly by its passengers.
While wearable technology was initially seen as a consumer device, it is now gaining more traction as an enterprise tool, and according to Renaud Irminger, Director at SITA Lab, this is something that the industry should pay attention to. The recent announcement from Google of its 'Glass at Work' programme – which focuses on how Google Glass owners are using the technology "to drive their business forward", as opposed to how the technology can be used by consumers in their everyday lives – is noteworthy, he said.
"This announcement from Google is significant because the difference between using Google Glass in the workplace and using it for pleasure is very different," he told FTE. "As Google wants to embrace enterprise, it's maybe a realisation that this is the right area for Google Glass."
If this is the case, then airlines and airports should be exploring how wearable technology can be used by their own members of staff to simplify their day-to-day job and the travel experience for passengers, rather than whether or not they need to make preparations (such as installing new wearable technology readers at gates) for a sharp rise in the number of passengers wanting to make use of the technology themselves.
Integrating wearable technology and biometrics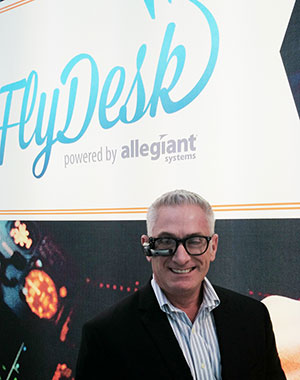 This enterprise angle is exactly the approach being taken by Allegiant Systems, which has developed a concept based on smartglasses from another manufacturer – Vuzix.
Allegiant Systems CEO Brian Mooney explained that the smartglasses could be worn by an airline's staff and could be used either at the airport or onboard the aircraft to help create a more personalised passenger experience. For instance, the Vuzix smartglasses could be worn by staff at the entrance to security, at the gate or at the aircraft door to identify passengers using facial recognition technology, or it could be used in a First Class cabin to identify a specific passenger's preferences based on their previous travel behaviour.
"It's important to note that this is just a concept," he said, "but I do see opportunities for it. It shows that the technology is there, so we're trying to see how you can make use of that technology."
The biometric-related functions mentioned by Mooney – integrating facial recognition technology into wearable devices, for instance – could be a key future development. In fact, SITA Lab's Irminger went as far as to say that "biometrics could be the glue that holds this together".
What role will wearable technology play in the future travel experience?
Using wearable technology to help facilitate a more seamless travel process is still in the early stages, but the belief that it could have a big impact on airports, airlines and passengers is evident.
At present, the greatest potential appears to be on the enterprise side – using it as a tool to improve business efficiency and, in turn, create a more personal and seamless travel experience for the passenger. If, however, wearable technology and biometrics can be seamlessly linked, the possibilities would be multiplied and opportunities to enable consumers to use their own smartglasses, smartwatches and other smart devices throughout the journey could be vast.
There may be a number of questions still to be answered, but one thing that is clear is that wearable technology could play a prominent role in defining the future travel experience.
Pioneering 'FTE Wearable Technology Symposium' to take place at Future Travel Experience Global 2014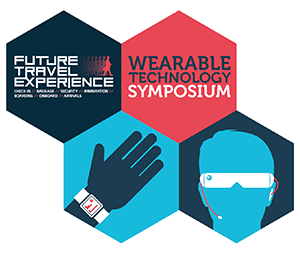 We are delighted to announce that FTE Global 2014, which will take place in Las Vegas from 24-26 September 2014, will host the FTE Wearable Technology Symposium. This unique symposium will provide an invaluable platform for the industry to jointly explore where wearable technology is going next and how airlines, airports, service providers, concessionaires, immigration and security agencies, plus other travel industry stakeholders can take advantage of these new technologies to improve future business performance and passenger experiences.
First-movers will share what they are doing, and the lessons they have learned along the way. Through cutting-edge presentations from leaders in the field and an interactive Q&A debate, it will provide an invaluable forum for our speakers and audience to explore what's next for wearable technology and what opportunities it presents for the travel sector.
» More information on the FTE Wearable Technology Symposium
» More information on FTE Global 2014