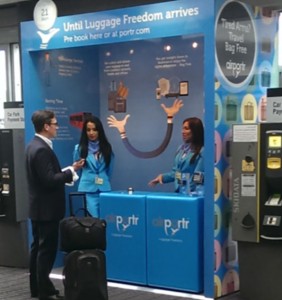 London City Airport is the first airport in Europe to offer the AirPortr baggage delivery service, which allows travellers to have their luggage securely transferred to and from the airport, London's hotels, serviced apartments and offices.
The service allows travellers to head straight into London without having to worry about carrying their bags with them, and as it includes a mobile-based GPS luggage tracking facility, customers can check on the location of their bags throughout the process.
Simon Potts, London City Airport's Director of Non-Aviation Revenue and Business Development, said: "Being focused and productive while in transit is of paramount importance to the modern day business traveller, hence why we have brought AirPortr into the terminal, recognising it as in keeping with the airport's service quality offering which combines convenient location, ease of access and speed of transit."
Travellers can either book and pay for the service in advance, which costs £30 (approximately €37) to have two bags delivered from London City Airport to London's West End, or they can visit a dedicated AirPortr desk in the terminal to sign-up to the service.
Randel Darby, CEO & Founder of AirPortr, commented: "Time is so valuable, so not having to worry about taking your luggage from meeting to meeting, avoiding taking a taxi in rush hour traffic, not going to your hotel before your first meeting saves valuable time and enables you to be more focused.
"AirPortr has been developed with the business traveller in mind. It's flexible so if plans change we don't charge you. Use it on the go – it's accessible from any device. You can book, use our real-time GPS tracking feature to see where your bags are, and see the profile of the concierge looking after them all from your smartphone. You can even let us know when you're five minutes away with our imminent arrival button so we can get everything prepared for you. We are very much aligned with London City Airport in that our focus is on speed, convenience and making London better connected for business and tourism."
Baggage delivery was recently included in FTE's top five baggage handling solutions that can enhance the passenger experience.