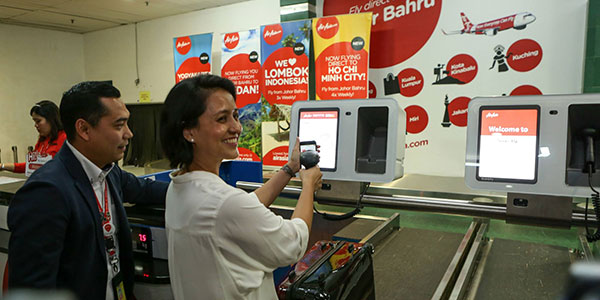 Following last week's unveiling of a new self-service bag drop system at Senai International Airport (Johor Bahru) in Malaysia, AirAsia will launch home-printed bag tags on two routes from 20 April.
The 'Home Tag' service, which allows passengers to print their bag tag at home, will be available to passengers flying between Johor Bahru-Kuching and Johor Bahru-Kuala Lumpur. To make use of this service, passengers just have to print their bag tag on an A4 sheet paper when they print their boarding pass, fold the paper and place it in a provided plastic cover, and attach it to their bag. Upon arrival at the airport, they can then drop the bag at a dedicated bag drop counter.
The carrier has also confirmed that it plans to roll out its fully automated self-service bag drop solution at more locations, including Bangkok's Don Mueang International Airport, Phuket International Airport, Langkawi International Airport and "a few stations in Indonesia".
Aireen Omar, CEO of AirAsia Berhad, said: "We chose Johor Bahru as our very first hub to deploy this new self-service feature because we have observed a very encouraging and healthy response towards the self-service features from our guests here.
"We recorded a high percentage of up to 70% of guests using self check-in and self bag tag in Johor Bahru, making it the most ideal hub to test a brand new feature. We would like to thank Senai International Airport for their constant support towards AirAsia and allowing us to be creative in improving our services."