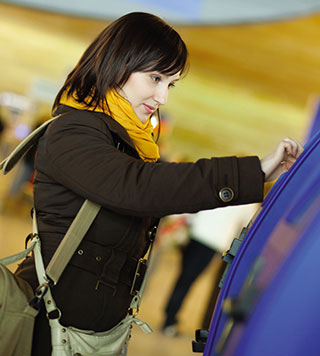 Kempegowda International Airport, Bengaluru has confirmed a major new investment in its IT infrastructure, including 180 common use workstations and 30 new common use self-service (CUSS) kiosks, which will allow passengers to print their bag tags along with their boarding pass.
The investment in self-service processing comes after the airport experienced a 13.2% year-on-year increase in passenger numbers in 2014, with the total number edging towards to the 15 million mark. A large factor in this growth was the decision of AirAsia India to make the airport its first base when services launched in June 2014.
The introduction of India's first self-tagging kiosks should, in theory, help the airport manage queues as it continues to grow by reducing the reliance on manual processing, although agents will still man the dedicated bag drop counters, and passengers will still be able to check-in their bags in the traditional manner.
Hari Marar, President, Airport Operations, Bangalore International Airport Limited (BIAL), said: "Kempegowda Airport, being the gateway to a city which is one of the top technology innovation hubs in the world, continues to adopt next generation technology to enhance the overall passenger experience."
The IT upgrades at Bengaluru International Airport will be driven by SITA after BIAL signed a seven-year contract, which also includes baggage reconciliation and baggage management upgrades.