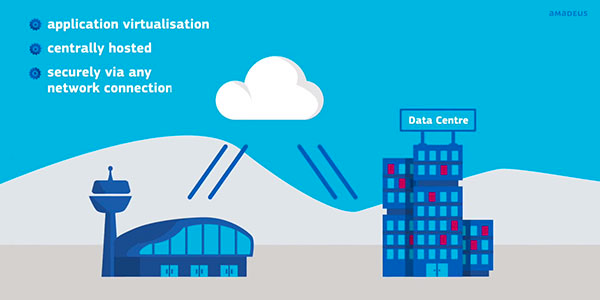 Five months after announcing the first customer for its cloud-based Airport Common Use Service (ACUS), Amadeus has secured a deal with Norwegian airport operator Avinor, which will install the solution in a number of its 46 airports. Speaking to FTE upon the announcement of the deal, John Jarrell, Amadeus' Head of Airport IT, also revealed that further contracts with airports in North America and Asia Pacific will soon be made public, taking ACUS outside of Europe for the first time.
Avinor's deployment of ACUS – a cloud-based, CUPPS-compliant Software as a Service (SaaS) platform – will initially cover eight of the 46 airports, namely Oslo, Bergen, Trondheim, Stavanger, Tromso, Bodo, Alesund and Kristiansand airports. Jarrell explained that a rollout to all 46 airports within the nine-year contract timeframe is unlikely, but he would expect the total number of Avinor airports coming online during this period to "certainly get into the twenties".
He added: "We believe ACUS is appropriate for all airports – we don't have the network bandwidth limitations that some of the other companies have. We know that we can support big airports and we can also support, very cost effectively, the smaller airports as well."
Having revealed that "we are in operations with a large number of airlines at another big airport that we haven't announced yet", Jarrell said Amadeus should soon be able to officially announce ACUS implementations in both North America and Asia Pacific.
"The airports that are looking for the future of common use are the ones that we're more focused on," he continued. "They recognise that the environment is changing and they see Amadeus' solutions as more forward thinking."
Long-term savings
Interestingly, Jarrell admitted that ACUS was not the lowest cost solution presented to Avinor – "we are often lowest on cost, but not on this occasion" – but the longer-term savings were one of the appeals for the airport operator.
This was confirmed by Brede Nielsen, Chief Information Officer, The Avinor Group: "(We) will be able to provide our airports with an innovative technology solution at a 25% cost reduction to the previous CUTE/CUPPS service whilst increasing customer satisfaction."
With airport common use contracts traditionally around five years in length, it will be intriguing to see how many other airports adopt a cloud-based solution – whether provided by Amadeus or another of the vendors in this space – as existing contracts gradually come to an end.