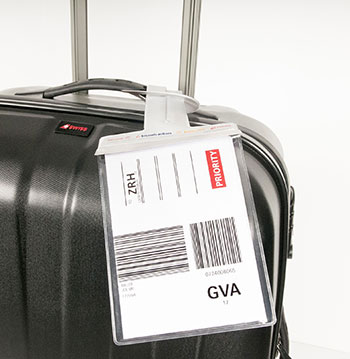 SWISS has become the latest carrier to launch home-printed bag tags, which are available to all of its passengers flying from Zurich and Geneva who check-in online. When passengers print their boarding pass they will also have the option of printing their bag tag, including for onward connections, with the exception of codeshare flights.
The printed A4 bag tag simply has to be folded and placed in a reusable plastic pouch, which can be collected at the airport, before attaching the pouch to their bag. The pre-tagged bag can then be dropped off at a self-service bag drop machine or at a staffed bag drop desk.
SWISS has also revealed that it now intends to make home-printed bag tags more widely available. The service is already available on selected flights to Geneva from New York JFK, Pristina, Marrakech, Skopje and Moscow, as well as flights to Zurich from New York JFK and Moscow. Plans are in place to introduce home-printed bag tags for passengers flying from other airports in the United States and more international stations outside of the European Union.
The need for bag tags issued inside the EU to carry a green stripe has so far prevented the rollout of home-printed bags for flights originating in member states, but SWISS says it is "currently working with IATA and the relevant authorities to secure the requisite legal foundations".
Back in June, IATA's Senior Vice President – Airport, Passengers, Cargo & Security, Thomas Windmuller, told FTE that agreement on the green stripe issue was "very close", but there have been no concrete developments in the three months since.