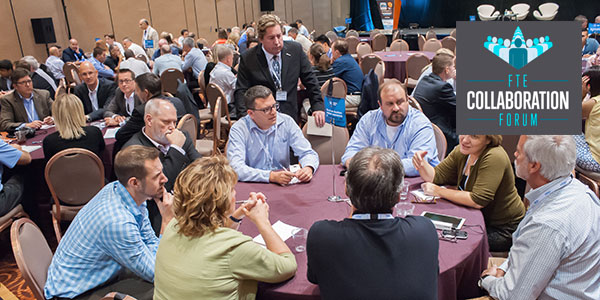 Our goal at Future Travel Experience is to be an industry change catalyst and the first ever FTE Collaboration Forum, held at FTE Global 2015 in Las Vegas last month, is a key part of our strategy to get all of the key industry players around a table to identify ways in which they can work together to improve the end-to-end travel experience.
Here we share the key conclusions from the "On the Ground" working group, which explored the following four questions:
How can we move passenger and baggage processes away from the airport?
How can we transform customer experiences at airport security and immigration checkpoints?
How can we transform customer experiences at the gate and during boarding?
How can we transform customer experiences at arrivals and baggage reclaim?
Conclusion from the "On the Ground" Collaboration Forum at FTE Global 2015, led by David Bourgon, Manager Airport IT Services, Manager, Airline Systems, McCarran International Airport
It is clear that the industry is looking for ways to streamline how we process passengers through their journey from check-in to boarding. It has been a challenge that industry partners such as airlines, airports, suppliers and vendors, industry groups, and regulatory agencies have wrestled with for years. Certainly, these groups need to have a more interactive collaboration to move the processes into the future. In recent times technology has aided in this challenge, but we as an industry are far from the solutions that will make all aspects of the travel journey seamless.
During this Collaboration Forum a range of topics were discussed. Moving passenger and baggage processes away from the airport, transforming customer experiences at security and immigration, transforming customer experiences at the gate and boarding, and finally transforming experiences at baggage claim were pondered. Several conclusions and possibilities came from the debates.
Removing the manual check-in process
The start of a passenger's journey needs to be more seamless and we, as an industry, need to give the most convenience to the customer. Does a passenger need to have any check-in or bag drop at the airport? Once a customer purchases a flight, check-in should be automatic and it does not need to require a passenger to login, use a kiosk, or visit a check-in desk to complete this process.
As smartphones and other technologies permeate everyday life, the boarding pass token and bag tags can be much more automated. Biometrics and/or RFID can be used to automate the entire journey. For baggage, perhaps a "ship ahead" model much like FedEx or UPS, or a baggage delivery service is a viable option so bag drop at the airport is no longer an issue. This would save the airlines and airports money and space that is better utilised for other needs.
Creating consistency at security and immigration
At security and immigration it was determined that harmonisation and consistency with the security standards and processes needs to happen. Data sharing among airlines, airports, and the regulatory agencies can go a long way in simplifying the security and immigration processes and would be a key factor to change the way screening is conducted today. The elimination of paper boarding passes to other means would make the process more streamlined. New innovations for passenger screening that include biometrics and new screening technologies would help move passengers through this process in a less intrusive and less stressful manner.

Overcoming the 'mob mentality' at the gate
At the gate the theme of a biometric boarding token continued. Using biometrics could eliminate the multiple document checks that are necessary by using the electronic or RFID boarding token along with a fingerprint, iris scan, or other biometric methods. Using biometrics along with self-boarding technology would allow gate agents to handle issues that crop up without stopping the boarding process.
Another common topic was the need to eliminate the need for everyone to be at the boarding area early. Text alerts could be used to inform passengers when they should proceed to the boarding area and would avoid the "mob mentality" we see at a great number of gating areas. Better carry-on management should also be deployed to eliminate the time it takes for passengers to board and be seated. Carry-ons could be preloaded but at a bare minimum carry on sizes and quantities need to be strictly enforced to help the process move quicker.
Optimising arrivals
At the end of the journey the topic of the experience at arrivals and baggage claim was pondered. Using smartphone and tablet technology could enhance the customer experience upon arrival. Notifications of baggage carousel assignment and locations would proactively give passengers information before they deplane and arrive in the arrivals hall or bag claim. GPS or other interactive wayfinding technology to guide passengers to where they will reclaim their baggage was a universal thought to enhance arrivals as well.
While many of the collaborators think that pushing baggage delivery from the beginning of the journey to the end is the optimal solution to eliminate the need for bag claim, this may not be practical for all. As such, notification of when the customer's bags are actually dropping on the carousel via text messaging would allow passengers to visit a shop or stop for a drink before going to baggage claim and would take away the "hurry up and wait" mentality that we see today with big crowds around the baggage carousels with no bags in sight. This also could help with baggage theft as passengers who are dwelling away from baggage claim would know their bags are dropping and allow them to go to collect baggage before it waits too long on the carousel.
In summary, enhancing the customer experience on the ground is an ever-evolving process. Through open collaboration with airlines, airports, industry members and regulatory agencies we can greatly improve the customer experience and streamline processes.