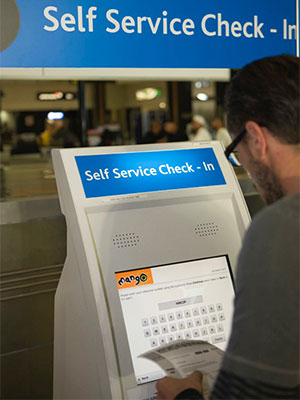 Passengers flying from any of the nine airports operated by Airports Company South Africa (ACSA) will soon be able to make use of new self-service check-in and baggage tracing kiosks.
ACSA and Aviation Co-ordination Services (ACS) have renewed their partnership with SITA, which will see the latter supply more than 1,000 workstations and 116 kiosks, along with the associated backend hardware and network-related infrastructure.
Among the airports that will benefit from the new five-year tie-up are O.R. Tambo International Airport in Johannesburg, Cape Town International Airport, and King Shaka International Airport in Durban.
ACSA Chief Operations Officer Tebogo Mekgoe said: "Nearly 18 million passengers fly from our airports every year. We want them to have a world-class experience and to deliver this we need the very best technology.
"SITA works with airports across the world and not only does its technology give passengers the very visible services we know they want – like self-service check-in kiosks – but it also makes our airport operations highly efficient."
Juan van Rensburg, CEO of ACS, explained that the new common use technology will be implemented over the next 16 months, and "detailed and flexible planning" will be undertaken to minimise the risk of disruption to everyday operations.