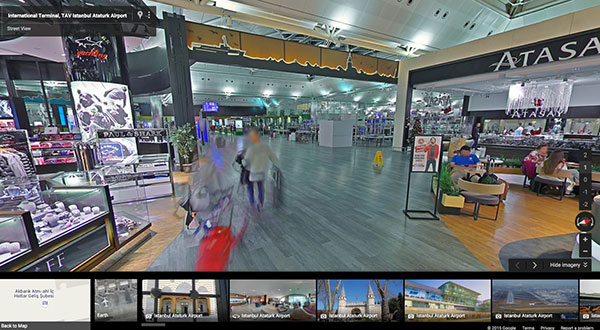 Istanbul Atatürk Airport has become the first Turkish airport to be added to Google Street View, meaning passengers can now access panoramic 360-degree maps of selected areas in the airport terminals.
Atatürk joins the likes of Gatwick and Cork airports in offering Google Street View maps, which effectively stitch together thousands of photographs to create a seamless view of the facilities.
TAV Airports President & CEO Sani Şener said: "We are happy to experience another breakthrough in Turkey and carry out that project as part of our mission to implement passenger-friendly, innovative airport projects in order to raise passenger satisfaction to the highest level.
"TAV Airports is planning to expand this free application, which will enable passengers to plan their journeys more efficiently by obtaining detailed information on the airport as well as the other airports TAV operates.
"Accomplishing this project with TAV Information Technologies, a TAV Airports subsidiary that has become a global brand in hardware and software solutions in the aviation industry, TAV is able to offer an even faster, safer and more comfortable travel experience to passengers thanks to this application. We will continue developing such innovative projects in accordance with the requirements and feedback of the passengers."