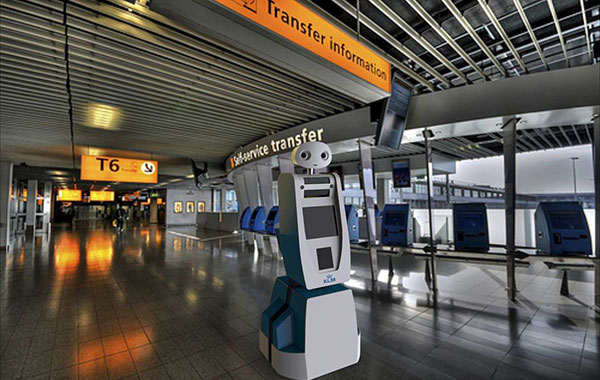 KLM has this week started trialling the project robot Spencer, which is being developed to guide passengers through airport terminals. The first test started at Amsterdam Airport Schiphol on Monday 30 November, and according to KLM and the various other parties involved in the project, Spencer goes "far beyond the skills of the current generation of robots".
The ultimate aim is for Spencer to be able to recognise emotions, consider group behaviour and proactively respond to unexpected situations, and then put this information to use as it guides groups of passengers in a busy area.
It is expected to prove especially helpful to transfer passengers who have to walk directly to their connecting gate upon arrival at Amsterdam Airport Schiphol. At a later date, the trial will see Spencer guide Chinese transit passengers from gate to gate.
Spencer has been in development, programming and testing for more than two years already, but this week's trial marks its first test in an operational environment, namely the Schengen area of the airport. No passengers are involved at this stage, however.
Michel Pozas, Vice President Customer Innovation & Care, Air France-KLM, commented: "The advent of robotics is, strategically, an important development, for which we have prepared and which we want to test. KLM is of the opinion that robotics will have a growing impact on air transport in the coming years. We are testing technology in several areas, to assess if and how robotics would augment our processes.
"These developments are wholly in line with KLM's objectives with regard to innovation, as one of the cornerstones of strategy. At KLM, the chief purpose of robotics will probably be to offer staff and customers even better support, using innovative technology."
For this project, KLM has teamed up with BlueBotics, various universities (including Freiburg, Munich, Twente and Orebo), Hogeschool Aachen, the Centre National de la Recherche Scientifique (CNRS), and Amsterdam Airport Schiphol. The project is also supported by the European Commission.