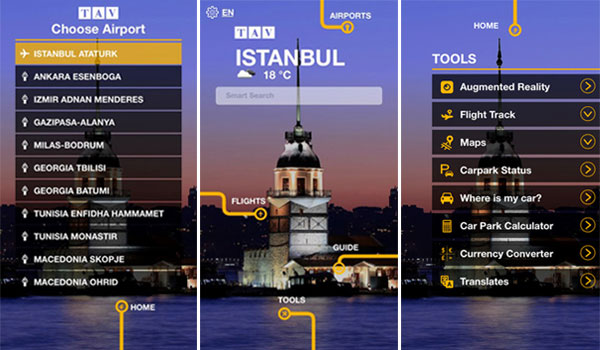 TAV Information Technologies (TAV IT), a subsidiary of TAV Airports Holding, has launched an updated app, which makes use of beacons, augmented reality and a language translation function to help improve the travel experience.
The 'SmartZone' function on the app enables passengers to access real-time promotions enabled by beacon technology when they are near duty free shops and airport restaurants, while the inclusion of an augmented reality function helps them locate airport facilities using the smartphone's camera. The application can also be used with Apple and Android smartwatches.
Another eye-catching feature is the translation function, which enables users to listen to and learn the most common phrases used in the country in which the airport is located.
The app covers a total of 11 airports: Istanbul Atatürk, Ankara Esenboğa, Izmir Adnan Menderes, Milas-Bodrum and Gazipaşa-Alanya airports in Turkey, plus Enfidha-Hammamet and Monastir airports in Tunisia, Tbilisi and Batumi airports in Georgia, and Skopje and Ohrid airports in Macedonia.
TAV IT General Manager Binnur Güleryüz Onaran said: "Our primary mission is to introduce the latest trends in technology and applications to the passengers. As a company which provides service in the information technologies field of the aviation industry, we are so proud that the TAV Mobile (app) is utilised at various airports by passengers from countries around the world. TAV Mobile, which is a concrete example of how effectively we work, will continue to introduce all the latest technologies to passengers."