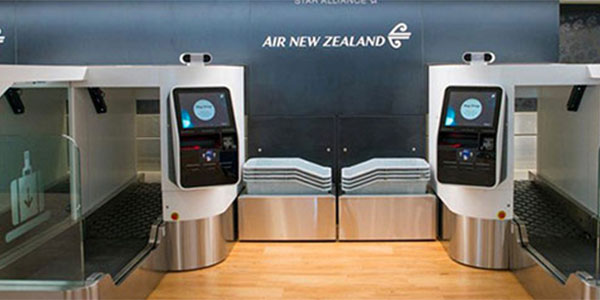 Innovations in the baggage space have been emerging apace in recent months, with a new generation of bag drop solutions, permanent and embedded electronic bag tags, and baggage tracking advancements all gaining traction. A feeling has emerged that the baggage field is undergoing a seismic transformation.
Among the many airlines that are active in this area is Air New Zealand. At the back end of 2015 the carrier introduced a biometric-enabled self-service bag drop solution and FTE has also been aware of its work in the electronic bag tag space for some time, so when we caught up with John Whittaker, the airline's Group General Manager Airports, we were keen to find out the thinking behind its baggage-related projects.
Speaking of the biometric bag drop solution that is now in operation at Auckland Airport, Whittaker explained that the addition of biometrics functionality makes the bag drop process simpler for both staff and travellers. As passengers have an image of their face captured by an embedded biometric camera (in addition to self-scanning their passport and boarding pass), the manual element of the identity verification is replaced in an automated and secure manner. "It also makes our staff more productive and allows them to focus on the customer, rather than the process," Whittaker explained.
When questioned as to whether Air New Zealand now plans to roll out biometric-enabled bag drop to other locations, Whittaker said: "We already have a simple bag drop system at our other New Zealand ports. Outside of New Zealand we are in common user environments and we expect that biometrics will increasingly be integrated into a range of common user products." This view ties in with the opinions of a number of vendors, as reported by FTE back in December.
Permanent electronic bag tag
As for the work Air New Zealand is doing with electronic bag tags, Whittaker revealed that the carrier has undertaken some closed trials and is now continuing to track developments closely. "We believe that electronic bag tags are likely to be a near term technology," he stated.
He is under no illusions, however, about the challenges that still need to be overcome for electronic bag tags to deliver widespread benefits. "A successful e-tag needs to be physically robust, technologically efficient and be available at a viable cost," Whittaker explained.
"Our experience to date is that the technology works, and that the challenges remain on the physical and cost side. A paper bag tag is very robust and cost effective and there is a long way to go to make an e-tag a mass market product, but it has great potential as a near term frequent flyer product."
It certainly sounds like a rollout among frequent flyers could be on the cards in the not-too-distant future, and if and when Air New Zealand starts this process, the eyes of the industry will be on the Kiwi carrier to see how the electronic bag tags perform, and if a wider implementation might be worth pursuing.