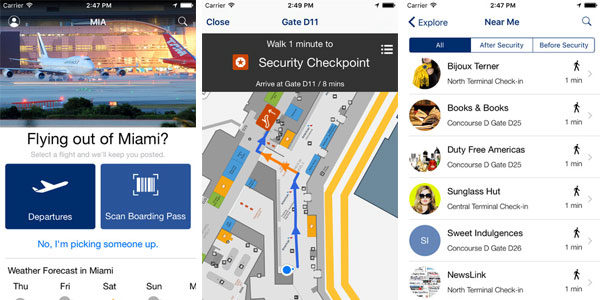 Miami International Airport (MIA) has launched its new app, which has been designed to act as a personalised travel assistant for passengers flying from Miami. The app makes use of more than 500 Bluetooth beacons installed across the airport to provide a number of location-specific services.
Among the most useful is the inclusion of "blue-dot" navigation. Passengers can scan their boarding pass to receive turn-by-turn directions to their departure gate with estimated walk times, real-time flight updates, and shopping and dining suggestions based on their customisable personal profile. The blue-dot wayfinding feature can also be used to navigate to various other points of interest across the airport.
Passengers can also opt to subscribe to notifications for a specific flight, which proactively provides them with flight, gate and baggage carousel updates. In addition, they can opt in to receive special offers from their favourite airport shops and restaurants, and use the app to reserve parking and view estimated security checkpoint wait times.
Commenting on the new app, Miami-Dade County Mayor Carlos A. Gimenez said: "A world-class airport must integrate world-class technology into its customer service, and MIA is doing just that with version 2.0 of its mobile app.
"MIA Airport Official 2.0 is the latest example of how we are leveraging new technology to make travel through our airport easier than ever. Thanks to the installation of data beacons, our mobile app can now guide you from your driveway to the runway with personalised, user-friendly instructions."
MIA worked closely with SITA on the development of the app and Matthys Serfontein, SITA's Vice President, Airport Solutions, explained that the goal was to create an app that provides "a truly personal experience". "We've incorporated the latest technologies, including Miami's beacon infrastructure and a selection of SITA's industry APIs, to provide a context and location-aware experience," he said. "What this means is that anyone who uses Miami International Airport will find this app incredibly useful."