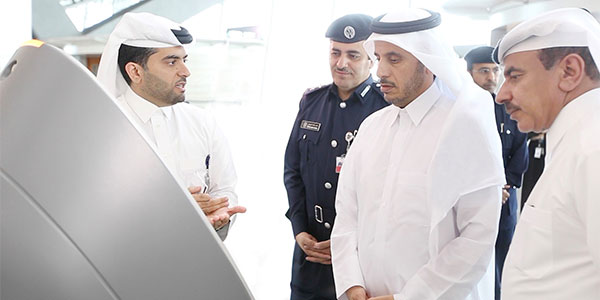 Hamad International Airport (HIA) has released new details about its "smart airport" plans, which will see the widespread rollout of self-service processing across the Doha hub. The airport plans to create the most seamless airport experience possible by offering self-service at every stage of the journey, from check-in to boarding.
Qatar Airways passengers flying from HIA can already make use of home-printed bag tags and the airport will soon introduce next-generation common use self-service check-in and bag drop services. The airport says these services will be continuously enhanced in order to support self-service excess baggage payment and the ability to purchase upgrades and lounge access.
A total of 63 automated border control e-gates are already in operation at HIA, allowing enrolled nationals and permanent residents to quickly pass through departure and arrival immigration processes using biometric technology and travel document verification. The airport says it is now "actively working with the responsible government authorities to extend these benefits to the large number of visitors to Qatar".
HIA has also revealed that it is in dialogue with government authorities and other airport stakeholders to "co-create a vision for the next-generation single token based travel at the airport", which would eliminate the need for the passengers to present the same documentation at multiple touch-points. In addition, self-boarding trials have been completed and HIA is currently participating in "Smart Security" trials along with Qatar Airways.
Commenting on the desire to leverage the latest technology to create a seamless and secure airport experience, Engr. Badr Mohammed Al Meer, Chief Operating Officer at HIA, said: "These technological advancements at key passenger touch points will take the passenger experience at HIA to greater heights. They will also allow the airport to be better connected to its passengers and provide need-based assistance."