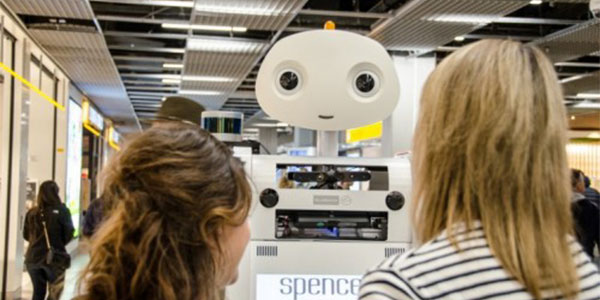 The idea of transiting through an airport and interacting with a robot that can react to your needs and help you find your way may sound wildly futuristic, but this is exactly what a select group of passengers passing through Amsterdam Airport Schiphol recently experienced.
KLM is among the key players involved in the EU-funded Spencer project, which aims to develop a robot capable of guiding transfer passengers and proactively responding to their movements and reactions in a busy airport terminal.
The first testing of Spencer was undertaken at Amsterdam Airport Schiphol in December 2015, but the project has just reached another important milestone, the final demonstration of Spencer, with the robot experiencing its first interactions with real-world passengers. In the final demonstration, Spencer scanned boarding passes from passengers and guided them to their departure gates.
What makes Spencer unique is that he can deal with social situations between people and can 'see' and analyse people nearby with his sensors. Spencer can also distinguish between individuals, families and larger groups, and also learns about and then complies with social rules, ultimately acting in a human-friendly way.
"Up until recently, Spencer had never been in an area as dynamic and complex as Schiphol Airport," Laila Ben Salah, KLM's Manager Product Innovation, told FTE. "We have to remember that an airport is a very complex and challenging environment for a robot. In December, it was the first test for Spencer at the airport, but we have also done a series of tests at partner locations before introducing Spencer to passengers."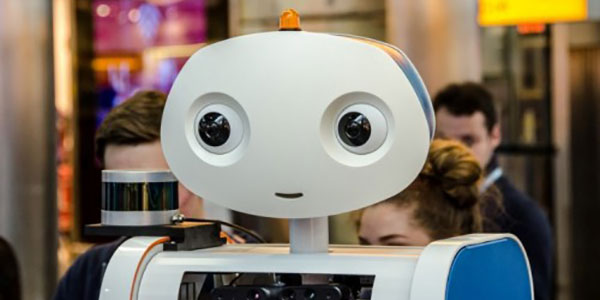 Ben Salah explained that the latest phase of the project is largely about establishing if Spencer is ready to offer support to passengers. "The plan is for Spencer to be able to guide passengers from one gate to another, but it is important to remember that this is a research project – Spencer is not a market-ready product," she stated.
She also revealed that PhD students who have been working on the research project have followed Spencer around the airport to monitor his performance, social interactions and response to passenger behaviour, and the findings will be used to help establish the next set of trials.
While there is a great deal of optimism around the Spencer project, there is also an understandable degree of caution, but Ben Salah, project partners and colleagues have been encouraged by the reaction from the public so far. "We have already had lots of passengers coming to us asking about Spencer and we can see that people are interested in him," she said. "They would like to see more of him, and this is a key thing – we need to see how passengers appreciate Spencer and how they react. This interaction with the passengers is a very important part of the project." In light of the completion of the latest trial, the partners involved in the project will now evaluate the results and do some more research and testing, before considering if and how to go further.
Ben Salah also dismissed the suggestion that investment in robotics could impact future investment in human resources. "We are testing technology in several areas, to assess if and how robotics would augment our processes," she explained. "These developments are wholly in line with KLM's objectives with regard to innovation, as one of the cornerstones of strategy. At KLM, the chief purpose of robotics will probably be to offer staff and customers even better support, using innovative technology."
While it is impossible to accurately predict how Spencer will perform in future trials, one thing Ben Salah is certain of is that robotics will have an important role to play in the industry's future. "We really believe this is an important development and as a company KLM wants to be ready for the future," she said. "Robotics will have a big impact on the air transport industry in the coming years and we want to be ready for this."