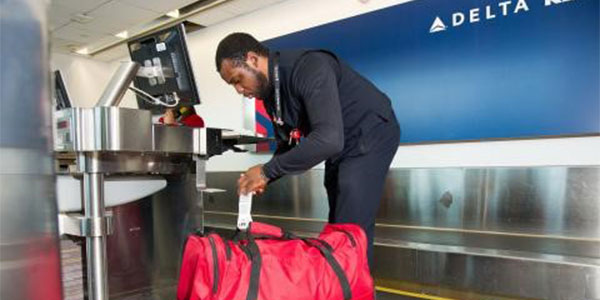 Delta Air Lines has announced that it is investing $50 million to deploy Radio Frequency Identification (RFID) baggage tracking technology at 344 stations around the world.
Instead of using barcode hand scanners, RFID scanners will capture data stored on an RFID chip embedded in the bag tag. The carrier says this will deliver superior tracking and increased transparency.
Thanks to the rollout of RFID technology, from Q4 2016 passengers will be able to receive push notifications via the Fly Delta mobile app informing them when their bag has been loaded and unloaded from the aircraft. Delta says that initial deployments of RFID integrated throughout the baggage process show that bags are tracked at a 99.9% success rate.
The likes of McCarran International Airport and Hong Kong International Airport have previously invested in RFID technology, but Delta's outlay marks the biggest single investment in the technology by an airline to date.
"With a $50 million investment in RFID at 344 stations around the globe, we aim to reliably deliver every bag on every flight," said Bill Lentsch, Delta's Senior Vice President – Airport Customer Service and Cargo Operations. "This innovative application of technology gives us greater data and more precise information throughout the bag's journey."
Tim Mapes, Delta's Chief Marketing Officer, added: "In the same way that customers want information at their fingertips about flight changes, we know our customers want clear visibility to their checked bags. Delta's industry-first baggage tracking app was a good first step. RFID will allow us to set a new standard for more transparent, interactive tracking on the Fly Delta mobile app."