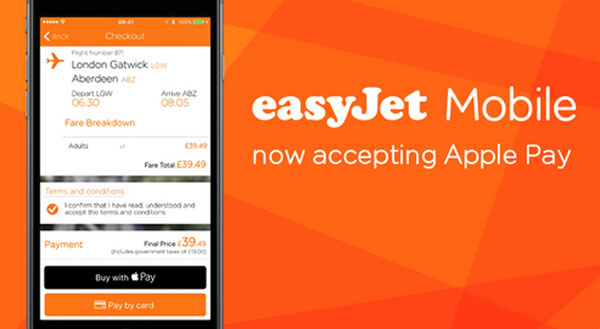 Travellers booking flights via the easyJet iOS app can now pay for their bookings using Apple Pay, Apple's secure one-touch payment function.
Customers booking flights through the airline's app on iPhone 6s, iPhone 6s Plus, iPhone 6, iPhone 6 Plus, iPhone SE, iPad Pro, iPad Air 2, iPad mini 4 and iPad mini 3 can now process their bookings using Apple Pay.
Users simply have to select the card of their choice and authorise a secure payment using fingerprint recognition on their device.
James Millett, easyJet's Head of Digital, said: "We're delighted that from today we're one of the first European airlines to introduce Apple Pay. Gone are the days of scrambling around searching for a bank card to book a flight."
easyJet becomes the second British airline to adopt Apple Pay, following British Airways' introduction of Apple Pay functionality in June 2015. US low-cost carrier JetBlue last year became the first carrier globally to adopt Apple Pay, with passengers able to use it to pay for in-flight purchases.