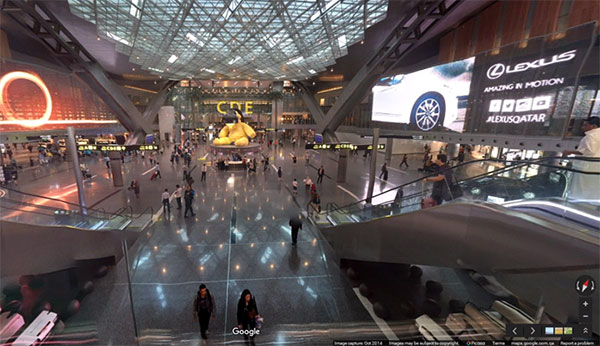 Travellers can now take a look around Hamad International Airport (HIA) using Google Street View to familiarise themselves with the 600,000sqm terminal before or during their trip.
Eng. Badr Mohammed Al Meer, Chief Operating Officer, HIA, said: "With the launch of Google's Street View in our airport, our customers from all over the world will get the unique opportunity to experience our airport's award winning facilities, airport architecture and design quality. We at HIA are proud to be the first airport in the Middle East to launch the 360-degree Street View with Google."
Ulf Spitzer, Global Lead for the Google Street View Programme, added: "The Google Street View team continues to go to amazing places around the world because we know that our users love to see them and experience these locations online. From Urs Fischer's teddy lamp bear sculpture to the Dreamliners that line the runway, millions around the world will now be able to inspect Hamad International Airport, which they may be travelling to or through soon."
Hamad International Airport joins a growing list of airports that are making use of Google Street View to allow travellers to take a virtual tour of their facilities, including the likes of Gatwick and Istanbul Atatürk airports.