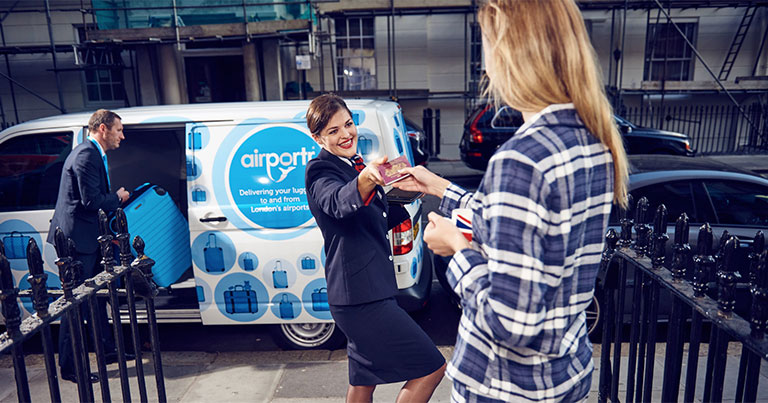 We've heard a lot about the evolution of the baggage process in recent months. Permanent electronic bag tags, baggage tracking devices and biometric-enabled bag drop systems are among the developments that are encouraging airlines and airports to rethink their baggage handling strategies. Now though, British Airways has made a move that could truly redefine the check-in and baggage processes by bringing bag drop to travellers' doorsteps.
Working with AirPortr, the company that already offers same day baggage delivery services for passengers travelling to or from London's Heathrow, Gatwick and City airports, British Airways has become the first airline in the world to offer the 'AirPortr + Bag Check-In' service.
Paul Mewett, Executive Vice President at Portr and a former director at Vancouver Airport Authority, where he envisioned and delivered CBP's Automated Passport Control system that is now commonplace in major North American airports, told FTE that AirPortr + Bag Check-In is "this industry's biggest leap in the baggage space in over a decade and we're delighted to be making the leap with our partner, British Airways".
How AirPortr + Bag Check-In works
So, how exactly does it work? Passengers who have booked the service check in online with BA before the AirPortr driver arrives either on the day of travel or the day prior to collect the bag. Boarding passes and passports are scanned with AirPortr's proprietary app, identity validation takes place, relevant security questions are asked and then all bags are sealed in front of the travel party before collection.
The bags are later screened, weighed and tagged at one of several secure Portr warehouses, before being delivered to the departure airport, ready for injection into the baggage handling system. For passengers flying the next day, and in close coordination with the airports, an overnight early baggage storage model is employed at the warehouse so that bags are only injected at a time that suits the relevant airport. Once the bag is injected into the system, the customer receives an email and SMS to confirm that their bag is on its way.
As one of the many layers of incremental security, Mewett explained that upon collection from the customer, the bag is sealed in a single-use recyclable outer-bag, so baggage staff will be able to tell immediately if the bag has been tampered with during the journey to the airport. All bags undergo an additional off-airport screening process, which adds an extra layer of security.
Importantly, during the development of the AirPortr + Bag Check-In service, AirPortr engaged with airlines, airports and regulators including the Civil Aviation Authority, the Department for Transport and the U.S. Department of Homeland Security.
"All of this means that the passenger arrives at the airport security-ready and they don't have to worry about transporting their luggage to the airport or spending time to check them in. It's a big step forward for the industry," Mewett stated, where customers not only "lighten their load" when travelling, but also benefit from a more flexible schedule on their travel day and the ability to better utilise public transportation.
Philip Osmond, British Airways' Director of Airport Transformation, said: "We are always looking at innovative ways in which to give our customers more choice and improve their journeys. This new service, provided in partnership with AirPortr, not only highlights our commitment to streamlining the process of checking-in, but also supports our vision of delivering the world's best airport service.
"The AirPortr + Bag Check-In service will offer our customers an even smoother travel experience – benefiting big families and business travellers with a hassle-free journey to the airport, or visiting tourists who want to maximise their time in the city."
Industry-wide impact
Should AirPortr + Bag Check-In live up to expectations, and Mewett clearly has no doubts that it will, the knock-on effect for the wider industry could be significant. If large numbers of passengers start to arrive at the airport separate from their luggage, having essentially used a "virtual bag drop at their doorstep", this could impact the requirement for bag drop desks, self-service bag drop systems and associated queuing space, which is a "huge win for all relevant stakeholders", in the words of Mewett. "Travel habits are changing as demand is on the rise and we need to adapt," he added, "and additional airport infrastructure is no longer the answer."
From a security perspective, this new approach to bag drop reduces the number of unscreened bags being carried into airport facilities, while also decentralising crowds that currently wait en-masse in the check in and bag drop zones. "Also, self bag drop systems are expensive to install and maintain, so AirPortr + Bag Check-In can help to reduce costs, while repatriating valuable airport space for other purposes," Mewett added.
For the team at AirPortr, British Airways' adoption of AirPortr + Bag Check-In marks just the start of their journey. Mewett told FTE that "we have a keen eye toward global expansion in the future".
"The issue of how to successfully separate bag and customer has long plagued us all," Mewett said, "but this finally provides the industry with a secure and viable solution." He added: "We see AirPortr + Bag Check-In as both a standalone product and an enabler for further facilitation endeavours, which we are already working on."