As part of our ongoing efforts to help airlines and airports improve the end-to-end passenger experience, Future Travel Experience was on-site at Passenger Terminal Expo in Amsterdam last week, where we sought out solutions that can improve the airport experience today.
Ahead of the show, we expected some key trends to dominate – ranging from the increasingly important role of biometrics for passenger processing, to the use of digital channels to create richer engagements with travellers – and these expectations were proved right in Amsterdam. Here we highlight 20 of the most eye-catching products and services that we found around the show.
LocusLabs helps Heathrow become 'single source of truth'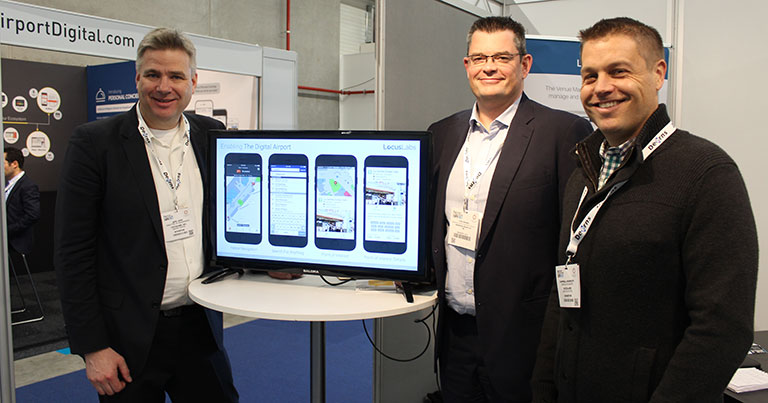 LocusLabs, whose high fidelity indoor mapping and location platform is already used by the likes of American Airlines, United, Lufthansa, DFW and JetBlue, has now announced a pioneering partnership with Heathrow Airport. Heathrow will leverage LocusLabs' location-as-a-service platform to power location services for its passengers via digital signage and touchscreens in the terminal, across digital channels including Heathrow.com and HeathrowExpress.com, and via its mobile apps.
"When I spoke at FTE Global in Las Vegas last year, I talked about joining all the dots, in order for Heathrow to become the single source of truth. This is exactly what we're doing with LocusLabs," explained Chris Annetts, Retail & Service Proposition Director, Heathrow Airport. Heathrow's work with LocusLabs will benefit the airlines, and their customers, who fly from the major London hub, as they will be able to easily integrate the airport maps and various other services into their own apps and other digital channels. In fact, Delta, American and United have already finalised the integration.
"This is not just about the maps though," said Annetts, who is a member of the 'FTE PaxEx & Ancillary Think Tank', which will launch its vision at FTE Europe and FTE Ancillary (26-27 June, Dublin). "We are integrating beacons, data on retail, products, services and so on. The next phase is to build the personalisation so Heathrow and our airline partners can build up profiles with the permission of our passengers." This, he explained, will bring about myriad customer experience and retail benefits. Campbell Kennedy, Co-founder and CEO of LocusLabs, added: "This really is a great story of us co-creating an ecosystem, and creating a win-win-win for everyone involved."
Cloud-native common use
FTE was among the first to hear about the launch of ARINC cMUSE, a new cloud-native Common Use Passenger Processing System (CUPPS), which was announced by the Rockwell Collins Information Management Services management team in a dedicated briefing.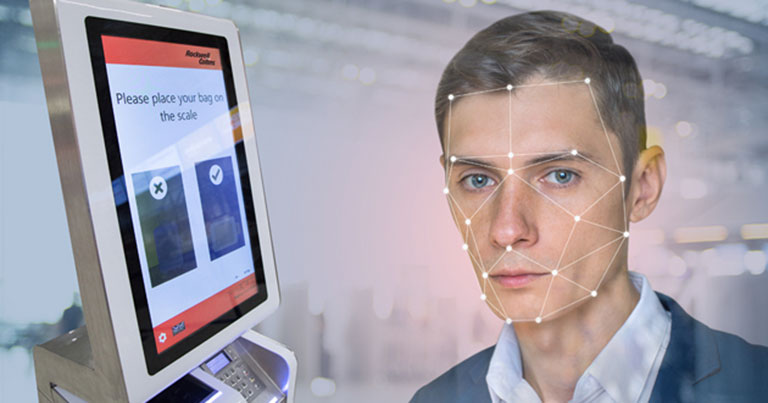 Tony Chapman, Senior Director, Product Management and Strategic Programmes, Global Airports, revealed that Ottawa International Airport will be the first airport to implement the new platform. Chapman lauded the new solution as a "true cloud-native offering", and pointed out various benefits, including simplified support, and faster and more affordable updates. He also said cMUSE will offer more flexibility to cost-effectively manage changing airport operations like accommodating seasonal airlines or adding more check-in desks to cater for irregular operations.
Rockwell Collins also announced that its end-to-end biometric passenger management solution – also known as a biometric single token – is ready for launch in 2017. Passengers will be able to register their facial image at the first touch point at the airport (check-in, bag drop or the security entrance), enabling them to pass through subsequent touch points without having to present their boarding pass. "We're exploring two or three opportunities for single token trials at airports," Chapman told FTE.
Cabin baggage management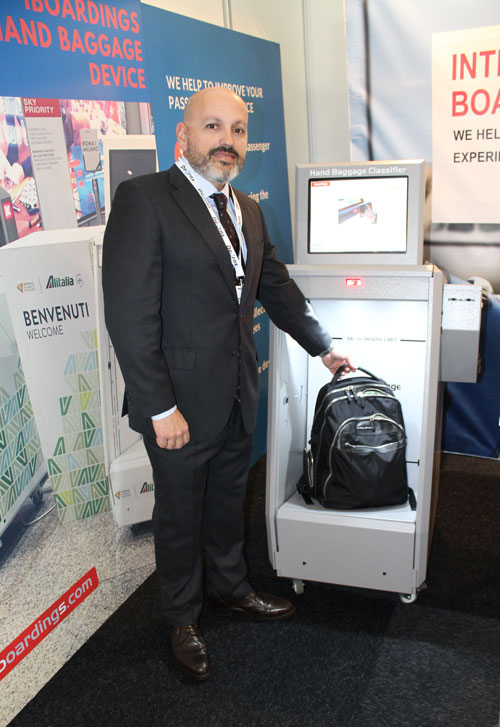 As more passengers travel with hand luggage only, many airlines are struggling to accommodate all passengers' cabin bags in the overhead lockers, while ground staff also face the challenge of ensuring that carry-on bags do not exceed airlines' differing size limits. Malaga-based iBoardings showed FTE its solution to this problem – the Hand Baggage Classifier.
The product, ideally located pre-security, can quickly measure hand luggage using proprietary software. If the luggage meets an airline's criteria, the passenger can carry on with their journey as planned. If it exceeds the limits, the passenger will have to return to the check-in desk to check their bag in. According to José Luis Cámara Palacios, CEO of iBoardings, the unit can help airlines avoid confrontation with passengers at the gate or on board the aircraft, while also ensuring that airlines earn revenue from all bags that exceed their carry-on limits.
The Hand Baggage Classifier, which can be programmed for common use airline operations, is already gaining traction in the industry. Alitalia is using the product in a handful of Italian airports, Athens International Airport has trialled it, and now easyJet has committed to trials at Edinburgh and Amsterdam airports.
Multi-biometric processing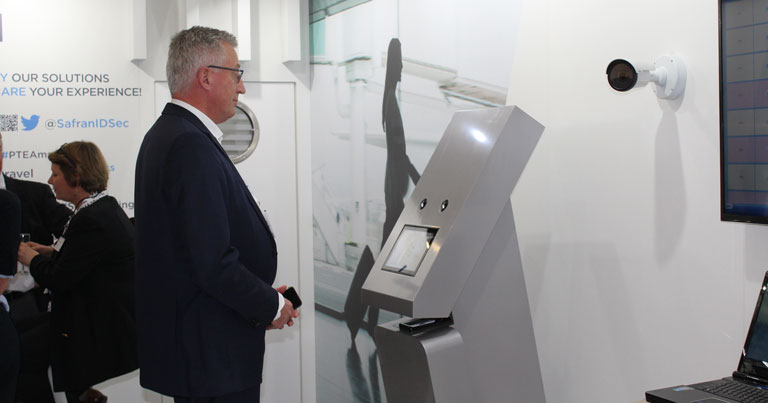 Safran Identity & Security (ex-Morpho), which is currently working with Changi Airport on the implementation of biometric-enabled passenger processing for the new Terminal 4, has launched a new facial recognition solution, called MorphoFACE. Using the latest 3D video analysis technology, the solution is designed to help airports and border forces deal with increasing passenger numbers. As Christine Riveau, Business Development Vice President at Safran Identity and Security, explained, the solution allows "on the move" facial recognition, which improves the passenger experience while maintaining security.
Riveau also provided FTE with a demo of MorphoWave, a touchless biometric technology that has been successfully trialled at Kempegowda International Airport in Bengaluru. Passengers simply have to wave their hands through a high-speed, contactless fingerprint scanner, which captures and matches fingerprints in less than one second. This data is then compared and verified against India's national identification multi-biometric registry. Having registered their biometrics ahead of the check-in hall, passengers can then pass the multiple controls and board domestic flights simply by waving their hands under the scanner, instead of having to present their Aadhaar ID and boarding pass.
Riveau explained: "Morpho Biometric Self Services can manage several biometrics, including fingerprint, iris and face, which gives us this unique capability to modify our concepts with the integration of one, two and/or three biometrics, depending on what the customer wants."
Walkthrough airport experience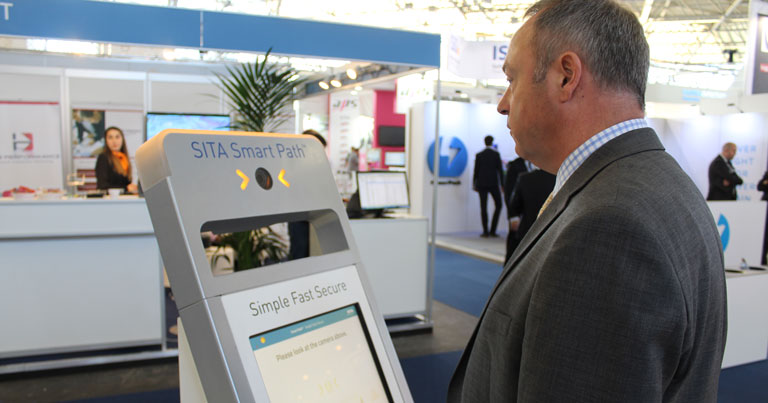 Another big player in the biometric single token space is SITA, which earlier this month announced the launch of a biometric-enabled "walkthrough experience" at Brisbane Airport. At present, Air New Zealand passengers can opt to have an image of their face captured at a check-in kiosk, which is linked with their travel documents. At the boarding gate, participating passengers can then board the aircraft using facial recognition technology.
When FTE met with Andrew O'Connor, Vice President, Airports, SITA, he explained the longer term plans for the project. "This is not just a trial," he said. "Our intention is to start small and to grow the project. Another significant airline is lining up to start within the next couple of months, and within six months we plan to add at least one more touchpoint." The end goal, he said, is to equip all touch points – kiosks, bag drops, security access gates, boarding gates and immigration e-gates – with the technology needed to capture biometrics, in order to offer a seamless and secure experience. Looking further ahead, O'Connor said SITA plans to explore how passengers can use their biometric single token without having to register their biometrics at the start of every journey.
Self-tagging efficiency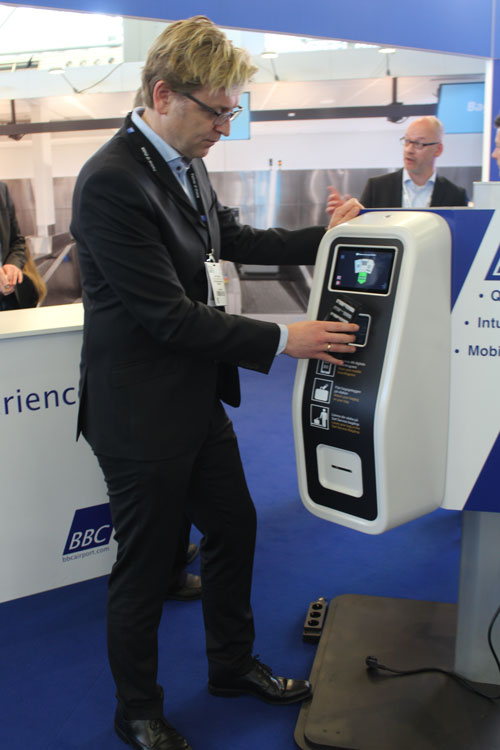 A year on from the launch of Tagomat, a small and easy to install self-tagging kiosk that can be located either inside or outside of the terminal, FTE caught up with Jørn Askvik, BBC's CFO, to find out how the product has been performing.
A trial at Stavanger Airport proved the viability of the product, with the Tagomat units in the "Kiss & Fly" drop off area proving particularly popular. Askvik showcased the updated version of the product – a mobile, battery-powered Tagomat kiosk, which could prove especially useful in airports that experience peaks and troughs in passenger traffic. Feedback from Stavanger and Norwegian has been very positive, he said, and now the product will be installed in Belgrade, while several big-name airlines are also being integrated. "This is a real alternative to a traditional check-in kiosk," Askvik continued. "Apps are taking over from what kiosks used to do. With this solution, passengers can quickly tag their bag and then go straight to the bag drop."
Next up on BBC's to-do list is to find partners outside of the air transport industry, with hotels and other transport hubs of particular interest. Askvik also hinted at a future partnership with a baggage delivery service, which would allow travellers to have their bags tagged at their hotel and transferred directly to their final destination.
Bag drop collaboration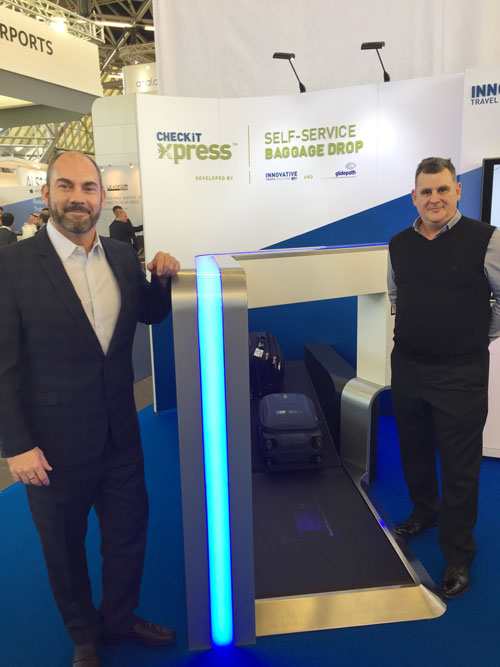 Vancouver Airport Authority and Glidepath gave FTE a guided tour of their latest self-service bag drop unit, which has been co-created by the two companies in a unique airport/supplier collaboration. The existing Glidepath FastDrop system will go live in Vancouver International Airport in June, before the introduction of an updated version of the product to the market.
Chris Gilliland, Manager, Innovative Travel Solutions, Vancouver Airport Authority, explained: "When we started to look for a self-service bag drop partner, there wasn't much on the market that we liked, but in Glidepath we found a company that is willing to work and collaborate with us. The new solution that we have created together will be going live next year." The new version of the bag drop unit has an open and intuitive design, will automatically measure bags and scan bag tags, and is currently averaging impressive 10-second transaction times across all user groups in trials. Also, passengers won't have to lift their bags very high off the ground when placing their luggage on the belt, as the unit features a very low profile. In addition, it is possible for images to be projected onto the belt and translucent screen at the side of the unit to provide passengers with visual prompts.
Douglas Irving, Product Development & Innovation Manager, Glidepath, also revealed to FTE that the company is exploring offsite bag drop opportunities, with car parks and train stations among the locations of interest.
Seamless gateway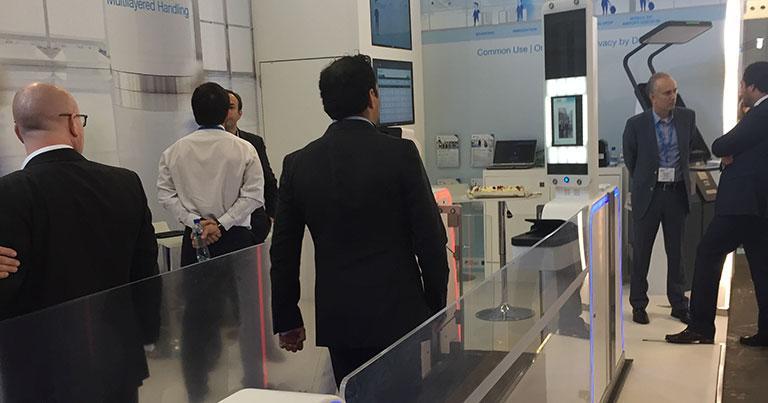 Vision-Box, a pioneer of the biometric single passenger token, has unveiled the Seamless Gateway, a new concept that allows passengers to pass through airport touchpoints without stopping. The walkthrough experience makes use of facial recognition technology to identify passengers as they approach the gate. Without breaking stride, the passenger's face is compared with the image they supplied earlier in the airport process (which is securely linked to their boarding pass and passport), and the gate then opens without them having to wait or present their documents.
As Pedro Torres, Marketing Director, explained, the gate includes a corridor-like walkway to support the walkthrough process and to help with queue management. He also revealed that Vision-Box's single token processing will be tested at all checkpoints across Amsterdam Airport Schiphol in the first half of this year, ahead of live implementations.
Smart airport solutions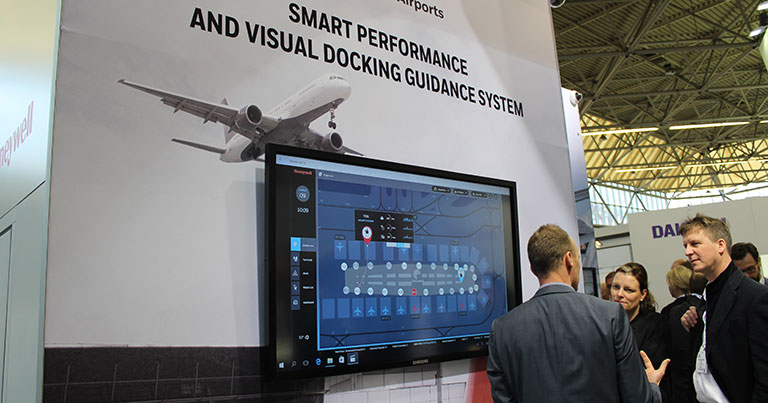 Following the announcement of a significant deal with IGA Airports Construction, which has selected Honeywell's Advanced Visual Docking Guidance System (A-VDGS) for Istanbul New Airport, FTE caught up with Alberto González Gutiérrez, Honeywell's Airports Global Marketing Leader.
Gutiérrez highlighted how the company's portfolio of smart airport technology can help airports optimise their operations and improve the passenger experience. "We're proving how airports can increase traffic without having to invest in increasing infrastructure," he stated. The predictive software also empowers airports and their partners to respond to potential issues in a proactive, rather than reactive, manner. FTE also demoed the Command and Control Suite, which includes a collaborative, touch-screen dashboard that provides easy access to real-time information on terminal facilities.
Unique collaboration: RIMOWA Electronic Tag and Materna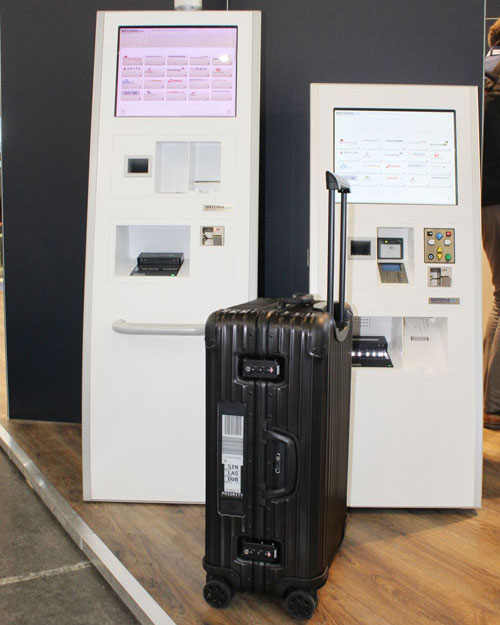 FTE was given exclusive insight into an exciting collaborative project between Materna and RIMOWA Electronic Tag, which builds on the companies' investments in digital travel processes. Leveraging Materna's baggage-related expertise and RIMOWA's fully integrated mobility solution for luggage, the two companies have developed a concept that will help to redefine the airport experience. You can find out more at FTE Europe & FTE Ancillary (26-27 June, Dublin), FTE Global (6-8 September, Las Vegas) and FTE Asia EXPO (7-8 November, Singapore).
Fly to Gate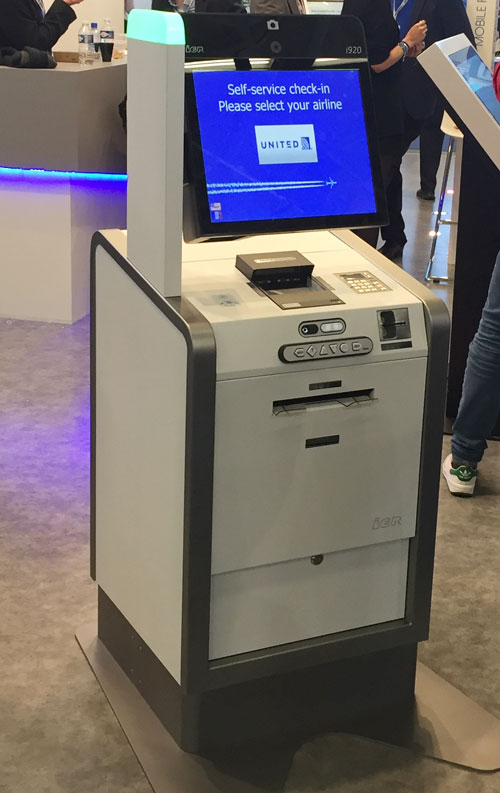 Continuing the theme of collaboration, IER and Gemalto announced last week that they have teamed up to create 'Fly to Gate', an end-to-end, biometric-enabled self-service airport experience. The partnership combines IER's self-service equipment and services with Gemalto's border management solutions to create a swift and secure biometrics-powered pathway through key airport touchpoints. Fly to Gate supports multimodal biometric checking including facial recognition, robust document verification and straightforward integration with immigration systems, enabling rigorous standards of security, and delivering operational efficiency for airports and airlines.
IER also unveiled its latest self-service check-in and tagging kiosk, the i920. The kiosk's open and intuitive tablet-style touchscreen and modular design allow for swift integration of future components, while also providing travellers with a user-friendly experience.
'The Google of lost property'
Online lost and found platform MissingX has an ambition to become the "Google of lost property", and as part of this strategy its airport network continues to expand. The platform is designed to make it as easy as possible to reunite lost property with its owner, using intelligent software and auto-matching. At present, as many as 400 items are registered as lost on MissingX each day and 1.4 million items have been registered as found, explained Nilesh Patel, Chief Technical Officer. As airports currently use lengthy, manual processes to reunite lost property with its owners, the MissingX platform provides a perfect opportunity to significantly streamline the process. "We want this to be the lost and found platform for the world," added Ole Ray Grodset, the company's President & CEO.
Personal concierge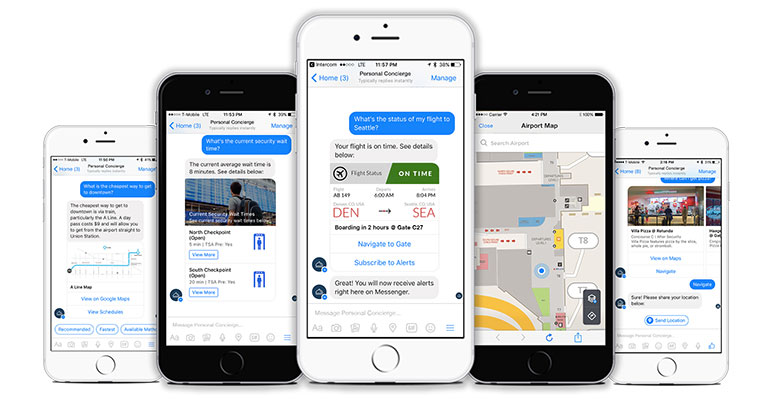 Artificial intelligence has emerged as one of the most exciting technologies in the air transport industry, and among the companies tapping in to its capabilities is AirportDigital. The company has developed the Personal Concierge, a white label product that provides passengers with the information they need, when they need it via multiple platforms, including Facebook Messenger, SMS, Slack, as well as airline and airport apps. Travellers can ask the Personal Concierge questions – anything from "what is the cheapest way to get downtown?" to "what is the status of my flight?" – and receive an immediate response. Indoor maps and navigation, and flight alerts are also provided.
Alejandro Pinzon, Head of Business Development, Airport Digital, told FTE that the product is already being implemented by airports in North, Central and South America. "The state-of-the-art technology enhances the passenger experience by delivering an engaging, feature-rich experience without downloading an additional mobile app," he said. "Particularly for airports, forcing users to download a mobile app has proved to be very frustrating for both parties. AirportDigital provides the Personal Concierge product under a SaaS model, making deploying this solution fast and cost effective on a platform that is constantly being improved."
Queue jump app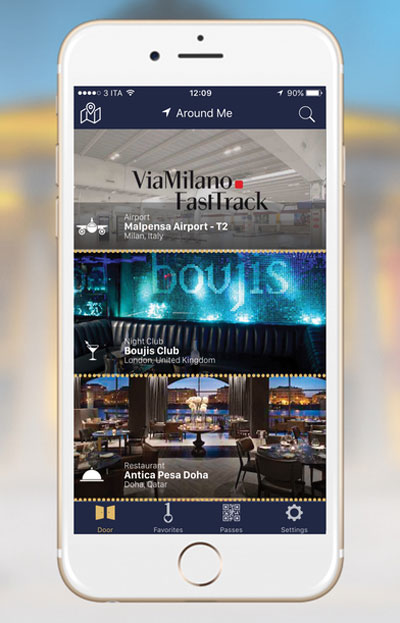 Also tapping into digital developments is uFirst, an app that offers travellers the opportunity to skip queues at the airport and enjoy discounted entry to attractions around the world. The app has already partnered with the major Italian airports, including Malpensa, Linate, Venice and Catania, and is now actively targeting overseas expansion.
The team behind the app partners with airports, agrees queue jump and lounge access offers, and then expands its network within the city the airport serves to offer travellers discounted entry to places like museums, theme parks, night clubs and various other attractions.
In the process, airports are presented with an opportunity to increase ancillary revenues. "We want to provide a new way to improve the customer journey in and beyond the airport," said uFirst's Federica Zito.
On-the-go content
Forgetting to download content before a flight can make for a boring travel experience, especially on shorter flights with no access to in-flight entertainment. Airtango explained to FTE that it has developed a solution to this problem with its so-called "living networks". Airports can partner with airtango to install "live points" – essentially Wi-Fi hotspots and media servers ­– in the terminal, which passengers can easily connect to.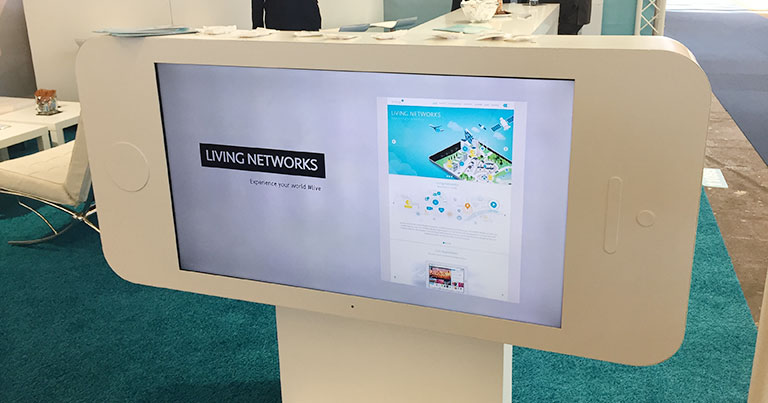 Passengers can then stream or download content to enjoy while they wait for their flight or once they've boarded the aircraft. As well as offering television content, music and destination information, airports can provide location- and time-specific retail offers to help boost ancillary revenues.
LED 'stickers'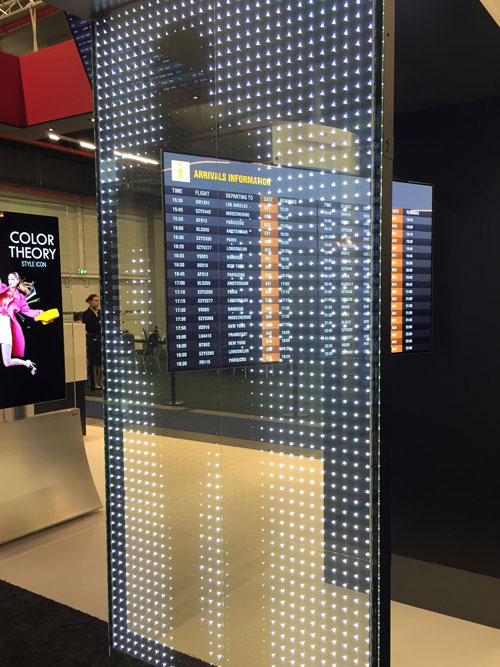 LG Digital Solutions was showcasing a range of digital airport displays but the one that really caught FTE's eye was the transparent LED on glass film, which effectively allows you to stick LED lights to transparent surfaces, such as glass.
For airports, this presents a variety of visual opportunities. For instance, the "sticky" LEDs can be used to create entertaining displays or to assist with wayfinding.
Transforming airport experiences
Scarabee's portfolio of airport customers continues to expand, and in Amsterdam the company highlighted the benefits of its multi-faceted approach to enhancing the airport experience. The company's "security as a service" approach can be found at the innovative security checkpoints at Amsterdam Airport Schiphol, and more recently Scarabee has worked with the likes of Cologne-Bonn Airport and Bristol Airport to transform their security checkpoints.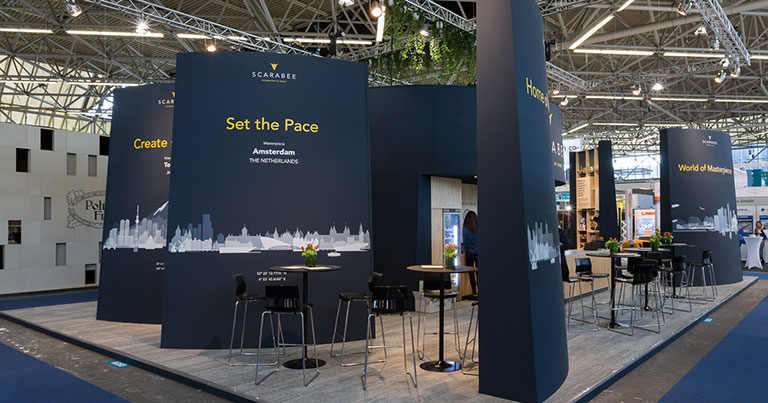 In Amsterdam, Scarabee highlighted how it looks beyond the basics of passenger processes, and focuses on ensuring that every project has a positive impact on the customer experience, particularly at security checkpoints, which are typically regarded as stress-points in the passenger journey.
Auctions to seat swaps
Ranging from digital wayfinding tools to seat auction software, NCR showcased a variety of solutions to FTE, all of which can help to improve the customer experience, while presenting airlines and airports with new digital ancillary revenue streams. Using the Wayfinding system, passengers simply have to scan their boarding pass to view directions to their departure gate, and they can also view retail offers that can be redeemed en-route to the gate. Meanwhile, the Seat Auction API allows airlines to integrate bespoke upgrade auctions into their websites and apps, while the Seat Swap tool enables airlines to easily connect passengers who wish to swap seats ahead of their flight. The customer experience and ancillary revenue benefits make these solutions a win-win for all involved.
Modular security solution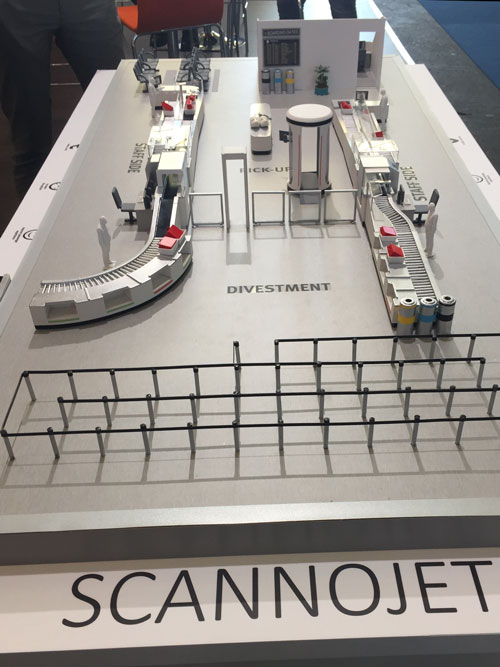 Highlighting the importance of achieving security, efficiency and a positive customer experience, Vanderlande has developed the Scannojet Automated Passenger Checkpoint. Describing the benefits of Scannojet to FTE, Mitch Dorsett, Business Development Manager, Services, explained that the integration of multiple divestment stations, remote screening software, and constant predictive flow all contribute to a more efficient security checkpoint. A lateral automated tray feeder removes the need for passengers to manually handle trays, while the development of an empty tray recognition system ensures that empty trays do not hold up the conveyor belt. The modular and flexible design, Dorsett explained, also allow the Scannojet checkpoint to be easily adapted to its surroundings.
Video-based tracking
Automated passenger analytics and insights are very much in demand for airports, and as Chris Hitching, VP, CrowdVision Asia Pacific, explained, the company's video based people tracking software can show what is happening to an entire passenger population in real time. Rather than using small samples to track passenger flows and predict wait times, the solution processes live video input from commercial off-the-shelf cameras, providing an accurate overview. This is complemented by live analytics covering everything from flows, queues and wait times, to processing times, occupancies, and asset utilisation.