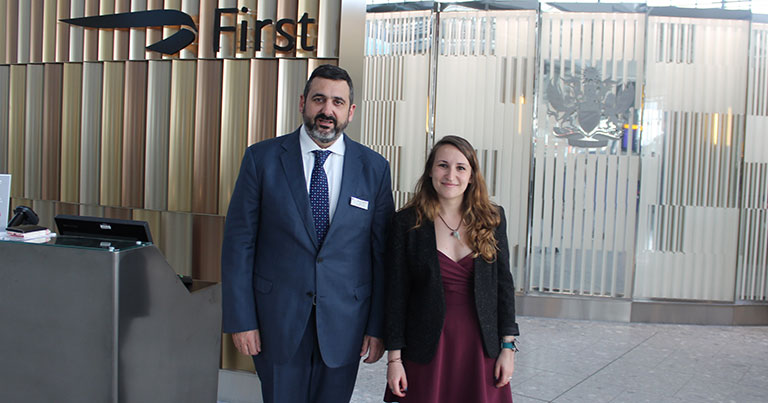 Future Travel Experience this week joined British Airways Chairman & CEO Alex Cruz on a special flight between Gatwick and Heathrow airports, during which he announced a major investment in improving the customer experience. Ranging from £400 million worth of enhancements to its Club World business class product and the rollout of in-flight Wi-Fi, to the installation of self-service bag drop and biometric boarding gates, the project will have a wide-reaching impact. FTE's Marta Dimitrova quizzed Cruz on how the investment will affect economy and premium travellers.
Premium enhancements – First Wing, lounges and an improved business class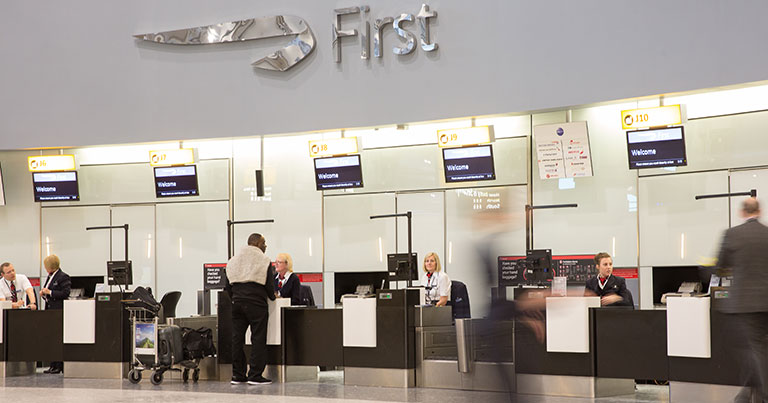 Upon arriving at Heathrow Airport following the short flight from Gatwick, FTE was among the first to experience BA's new First Wing in Terminal 5. The premium check-in area includes dedicated desks, a two-lane security channel and direct access to the Galleries First Lounge and Concorde Room, providing a fast-track route through the airport. First class passengers and Gold Executive Club members stand to benefit from this exclusive area.
Cruz explained that BA is also investing £88 million in its lounge facilities. Business and first class passengers will have access to a new lounge complex in the South Terminal at Gatwick Airport, while £52 million has been earmarked for New York JFK Terminal 7, which will see a refurbishment of the First and Club World lounges, as well as improvements at check-in, security and boarding gates. A new lounge in Boston has just opened, the existing facilities at Rome and Aberdeen airports will be revamped, and the lounge in Geneva will soon be expanded. The lounges in San Francisco, Johannesburg, Manchester and Chicago will also be improved, as will the flagship Concorde Room for first class passengers at Heathrow Airport.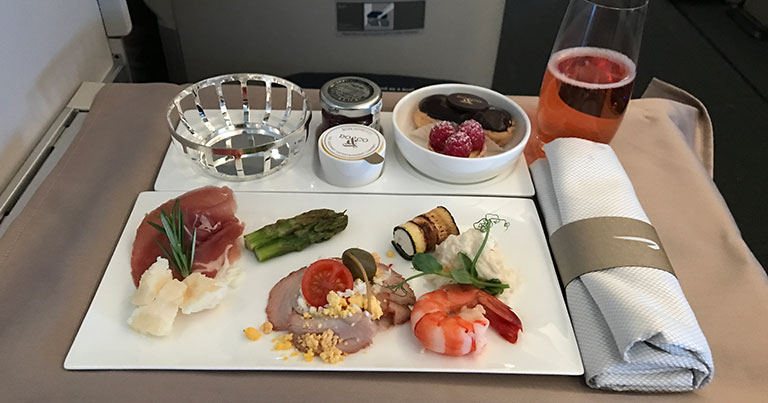 The £400 million investment in Club World will bring about a variety of benefits for business class passengers flying on long-haul services. An improved catering offer will be introduced into the Heathrow business lounges from June. A month later, new linen, bigger pillows, and a soft mattress topper and duvet will be added in-flight. Also, a new Club World restaurant-style premium dining service will be debuted in September on the Heathrow-New York JFK route, and rolled out across the long-haul network during 2018. The investment does not only cover long-haul services; a domestic business class product has been introduced. This Club Europe product is being added to internal UK flights immediately.
Cruz said: "Club World and Club Europe are vital elements of what we offer and play a big part in customer satisfaction levels. We are the only UK airline to have both short-haul and long-haul networks and we want to ensure that customers connecting across our network receive a consistent and distinctive British Airways experience."
Competing with LCCs
He also explained that the carrier is not only focusing on premium passengers, and is committed to the more price-conscious consumer. "BA is going to continue being a premium airline – we fly to premium destinations with premium passengers," he said.
"However, we are also going to continue looking for ways not to give up on those passengers that are price-sensitive, so we are going to be price-competitive…We are going to give (passengers) loads of options. If passengers want to spend more money, we will be there for you to have a better experience. We believe this is a very good, competitive move against those airlines that cannot go premium. This automatically distinguishes us from any LCC."
Biometric boarding and self-service bag drop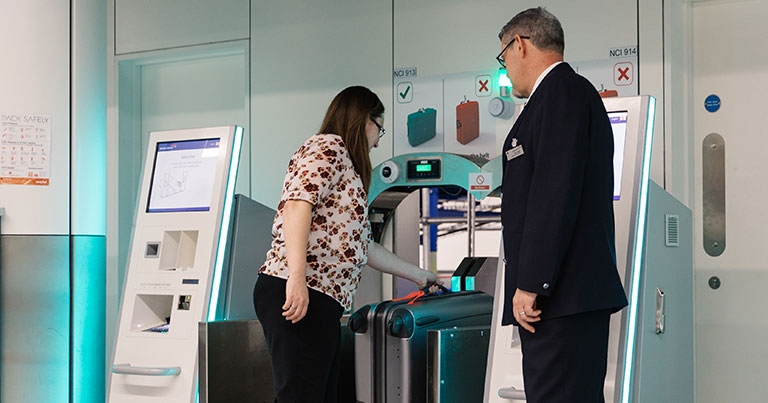 Following a successful trial last June, the first three biometric-enabled self-boarding gates are now in operation at Heathrow Terminal 5 for UK domestic flights. Passengers can simply scan their own boarding pass and a facial image is captured and compared against the image captured at the security checkpoint. The gate then opens automatically, removing the need for manual document checks at the gate.
British Airways has also opened self-service bag drop points at Gatwick and Heathrow airports, and a streamlined connections area will be completed at Heathrow T5 later this year.
In-flight Wi-Fi
Cruz confirmed that from this month passengers in all classes will start to have access to on board Wi-Fi, which will be rolled out across wide-body and narrow-body aircraft. "By the end of 2019, we believe we will have more than 90% of the fleet completed," Cruz told FTE. The long-haul Wi-Fi service is powered by Gogo's 2Ku, while the connectivity on short-haul aircraft will be powered by the Inmarsat/Deutsche Telekom European Aviation Network.
The Wi-Fi services will support video streaming, although passengers will have to pay more for this. The Simply Connect option will be available for £4.99 and will support basic web browsing, email and instant messaging, while the Connect Plus option will cost £7.99 and will support video streaming from the likes of Netflix and YouTube.
In-flight ancillary opportunities
When pressed by FTE on the ancillary revenue opportunities that in-flight connectivity could present, Cruz stated: "Once we have connectivity on the planes, a world of opportunities appears."
He added: "A great deal of the future retail, not only for BA but for the whole industry, is going to be driven by connectivity on board. I am not really sure we have even realised all of the things we can achieve…In general, yes, connectivity will drive potential new models."
The reaction to the short-haul buy-on-board model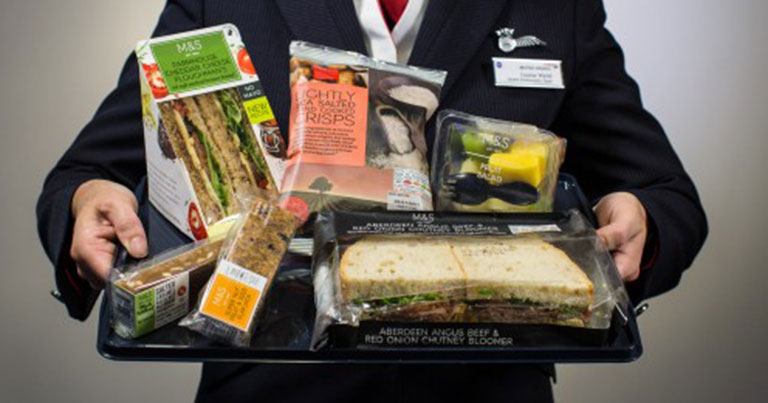 While the introduction of in-flight Wi-Fi will be welcomed by passengers, BA's recent decision to remove free meals from short-haul services and replace them with a buy-on-board model has not generated such a positive response. Cruz admitted to FTE that the introduction of the new short-haul F&B model brought about some challenges, with crew and passengers taking time to adapt. "Even though the first week since we introduced the new service was very tough, we are working very closely with our cabin crew and we are reaching a point in which we are stable and we are determined to innovate," he said.
He also highlighted a number of ways in which he believes the carrier is improving the on board experience: "We have expanded contactless payment, which has made a huge difference, and we have also added additional trolleys. We have a fantastic partner, M&S, which wants to experiment and introduce very interesting new items across its catering proposition. There is already a new menu, but we are changing it constantly, as we realise that there are items that people don't buy. I am very positive about the way we are moving."
Cruz continued: "We have three differentiating points against any other airline offering this service: offering (products) from a major brand, M&S; passengers can pay with Avios; and (we offer) contactless payment. No other airline offers this. So, we are going to continue to develop. One of the pluses that we also have are the iPad minis, which give us tremendous flexibility in terms of how we present and manage the experience on board."
'Adapting to new times'
As Cruz explained, this raft of in-flight and airport-focused investments is an important part of British Airways' strategy of ensuring that it does not simply stand still in the marketplace. "We are reacting and adapting to new times," he said. He told FTE that "we believe that we are already the best airline in the whole of Europe" but the reality is that competition is fiercer than ever before.
The enhancement and expansion of its premium products should help to build loyalty among those passengers who fly at the front of the plane, but the battle for loyalty among economy class passengers is just as important. The rollout of in-flight Wi-Fi could prove to be a strong differentiator – at least until BA's competitors eventually follow suit – but Cruz is clearly in no doubt that the British flag carrier must continue to innovate in order to remain competitive.