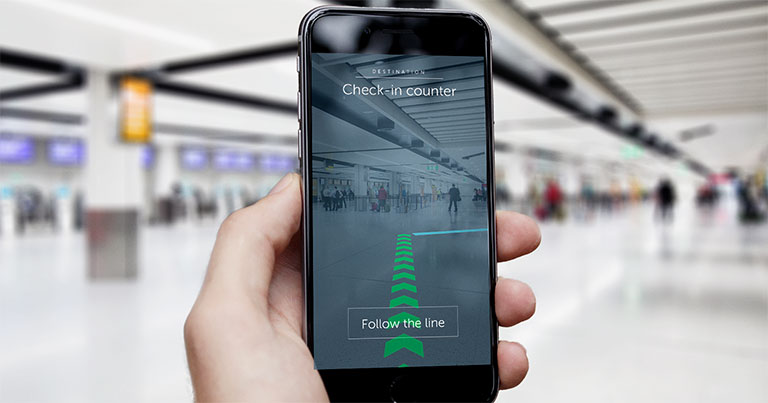 As Gatwick Airport's £2.5 billion (€2.9bn; $3.3bn) investment in upgrading and modernising infrastructure continues, it is also embracing technological innovation as it seeks to simplify the passenger experience and optimise operations.
Abhi Chacko, Head of IT Commercial & Innovation at Gatwick Airport, explained to FTE this week that the installation of 2,000 battery-powered beacons has now been completed. Although the airport has led the project, it is perhaps the airlines and their passengers who stand to gain the most.
The beacons have been installed across the North and South terminals. By communicating with mobile apps, they can accurately locate where a passenger is in the airport and provide them with blue dot indoor navigation. This is supported by an augmented reality (AR) wayfinding tool, which allows passengers to use the camera function on their device to view AR directions to wherever they need to go within the terminal.
"We wanted to enable indoor navigation on mobile apps, similar to road navigation on Google or Apple maps, but GPS doesn't work well indoors due to a lack of satellite signals," Chacko explained. "We deployed about 2,000 battery-powered beacons in early 2017 and we are now able to provide a reliable indoor blue dot service to app developers. This is much more reliable than GPS and it can be used in airport apps, airline apps, and other third-party apps."
Chacko explained that Gatwick chose battery-powered beacons to reduce costs, logistical complexity and deployment time. In fact, all of the beacons were installed in just three weeks, before two months were spent calibrating the blue dot and testing the accuracy of the wayfinding. The result is a multi-level indoor map with +/- three-metre accuracy, dynamic navigation that takes into account the ongoing construction works within the terminals, and the blue dot and AR wayfinding functions.
Gatwick Airport has worked with London-based Pointr Labs on the project. The company's CEO, Ege Akpinar, outlined more of the benefits of the system to FTE: "From day one we've focused on the computer science aspects of it, so it doesn't use too much battery, it's multi-platform, and it's accurate throughout all publicly accessible areas of the airport. We've seen airports that are installing loads of sensors – as many as 10,000 sensors – but we can use much fewer beacons and that's all thanks to the clever software that we've developed."
Akpinar also said that as the navigation doesn't rely on the device's compass, it delivers greater accuracy. "A lot of systems out there use compass. That's great if you're outdoors in a park, but if you're in an indoor environment with lots of metal around you, 50% of the time it will work and the other 50% of the time it will go crazy and point in the wrong direction," he explained. "If you're in the airport and you're trying to go to your gate, if it points 45-degrees to the left you'll be confused."
To remedy this Pointr has developed a patented solution. "Our own solution allows you to have very accurate orientation, so all of a sudden navigation is much better," Akpinar added. Such is the accuracy, it can even tell which direction a passenger is facing at any given time.
Optimising operations
The service is fully managed by Pointr, and Chacko explained that airlines and other third parties can simply use the beacon registry or Pointr's software development kit (SDK) in their own apps to enable all of these features.
"While we don't collect any personal information from the app users, the information around people density in different beacon zones will be useful for us to optimise operations in the airport," stated Chacko. "This is actually a benefit for the whole airport ecosystem, especially if the technology gets adopted by different airlines, as well as being enabled on Gatwick's apps."
He continued: "Airlines could go further, with the consent of their passengers. If a passenger opts in to see indoor alerts on the airline app, the airline will be able to find out where that passenger is. For example, they can send a message to the passenger if he or she hasn't turned up at the gate 30 minutes before departure. Boarding staff can make a decision to wait for the passenger if they know that they are five minutes away and are walking towards the gate, so they don't have to offload the bag. Or if the passenger hasn't even turned up at the airport or they haven't crossed the security gate, the airline can decide to offload the passenger's bag and push back on time. These things can only be done after integrating the indoor navigation technology into the airline app."
Beacon-enabled retail opportunities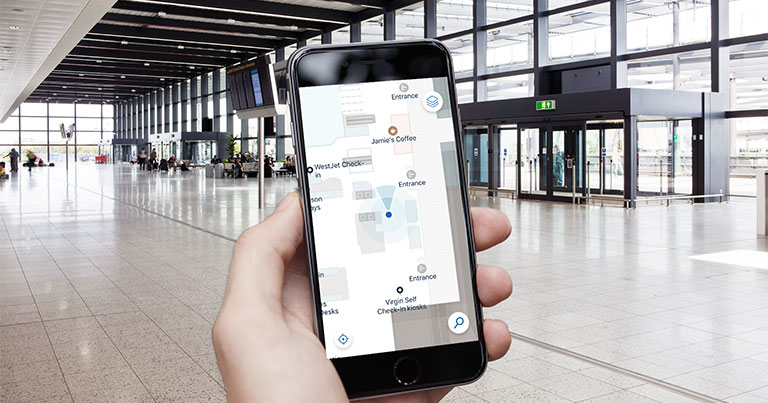 Chacko, who also led the development of the Airport Community App, which has been adopted by the likes of Dubai Airports and is being trialled in various other locations, also outlined the potential benefits to retailers. "We're talking to retailers and advertising companies as well to use our beacon system to detect proximity," he said. The beacons would enable them to send proximity-based messages to passengers, if they so wish. While Gatwick has provided the beacon infrastructure, Chacko said it is up to the app developers to decide if and how they use it as a communication channel with passengers, who will only download and keep an app if it adds real value.
He also explained that Gatwick will not be allowing any further beacon deployments at the airport. "We want them to use what we already have," he said. "We don't want our electro-magnetic spectrum to be polluted with too many signals."
Gatwick Airport is now holding discussions with some of its airline partners to explore the possibility of them integrating the technology into their own apps, so it could well be only a matter of time before the first one goes live.
As with the Airport Community App that was launched last year, Gatwick Airport's installation of beacons provides a great example of an airport investing in a solution that can benefit the wider ecosystem and enhance the passenger experience.