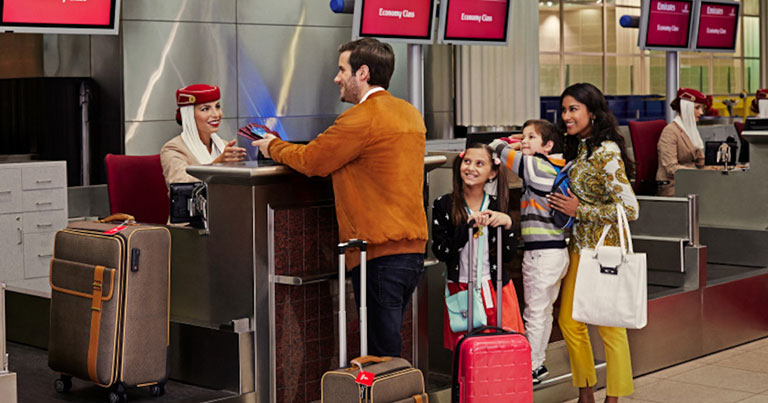 Emirates has unveiled the first two projects to be launched under the "Together" initiative, which was unveiled earlier this year to drive improvements through stakeholder collaboration.
The two new initiatives, which make use of biometric technology and automated border control gates, will be launched immediately, with completion expected within 12 to 18 months. They are the first projects signed off by the joint team currently reviewing all traveller touchpoints at Dubai International Airport, with the aim of enhancing the overall customer experience.
The unique collaborative approach involves Emirates, Dubai Customs, Dubai General Directorate of Residency and Foreigners Affairs (GDRFA), Dubai Police and Dubai Airports.
The first of the two initiatives uses a facial recognition technology solution integrated with the UAE Wallet app. It allows travellers to register and store their biometric data through multiple means, including by taking a selfie on their mobile phones, as well as using biometric registration kiosks placed at check-in areas and Emirates lounges. This will remove the need for passengers to present their physical documents at every touchpoint.
The use of facial recognition technology will simplify passengers' journeys through immigration at T3 Departures. Other touchpoints will also be added, including automated access to Emirates' First and Business Class lounges.
The second initiative is called "One Gate" and involves a new generation of biometric-enabled smart immigration gates, which will be installed at T3 Departures, complementing the existing e-gates and manned immigration counters. Passengers using these gates will no longer need to have their documents checked by a security officer before proceeding to the e-gate, as these checks will be integrated within the biometric validation process.
Adel Al Redha, Emirates' Executive Vice President and Chief Operations Officer, said: "We are fortunate to have a very supportive and progressive airport stakeholder group. Even if it means investing in equipment, training and changing operational processes, all partners are keen to embrace new technologies and thinking if it benefits the end users.
"We are all on the same page when it comes to wanting to deliver the best experience for visitors coming to and through Dubai. We look forward to bringing these projects to fruition and introducing more enhancements in the coming months. The teams are enthusiastic and excited to expedite these initiatives at our hub."