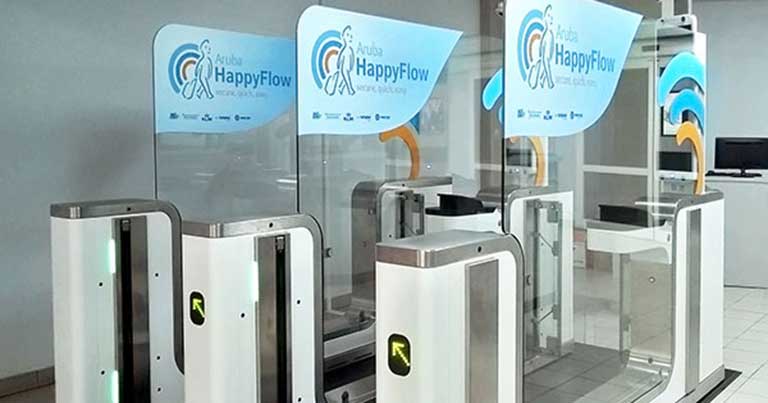 Aruba Airport Authority and Vision-Box, the two companies at the heart of the biometric-enabled "Aruba Happy Flow" airport experience, have announced an agreement to further develop the project.
Both parties have committed to invest in evolving the Aruba Happy Flow platform and to co-create and assess new solutions at Aruba Airport. The "Gateway 2030" initiative will make full use of the platform as a terminal-wide solution, essentially creating a 100% self-service airport experience underpinned by the use of biometric technology.
A "seamless travel" centre of excellence will also be established at Aruba Airport as part of the agreement.
"The Aruba Happy Flow proof of concept has exceeded our expectations during these two years, paving the way for a new direction for the airport," said James Fazio, CEO of Aruba Airport Authority.
"On the other hand, with this new partnership with Vision-Box, we are now very excited to get the opportunity to establish a pioneering Centre of Excellence, where we aim to understand tendencies, develop new products and technologies in a real-life environment and support local economy. This combined effort will surely mark another milestone in the development of the future airport."
Miguel Leitmann, Vision-Box CEO, added: "This is indeed a great partnership. Aruba Airport has already embraced the new era of the digital airport concept and it will soon benefit further from our game-changing technology for the Gateway 2030 project.
"We are convinced that this partnership will be the ground base for the next generation of Happy Flow, reaffirming Aruba Airport as an innovation centre for passenger facilitation and projecting Aruba with a highly recognisable worldwide airport."
Aruba Happy Flow is the result of a cooperative consortium composed of the governments of Aruba and the Netherlands, Schiphol Group, KLM, Aruba Airport Authority and Vision-Box. You can read more about the project here.