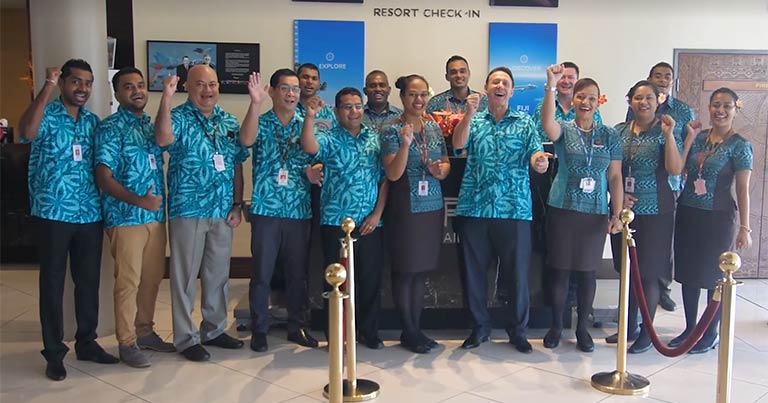 Speaking to FTE on the sidelines of the Future Travel Experience Global 2017 show in Las Vegas in September, Rowan Chalmers, Fiji Airways' Executive General Manager – Operations, Airports, Inflight Services and Freight, suggested that the carrier would be rolling out a resort-based check-in service to help simplify the day of travel experience for its customers.
This week the new service has been officially launched and is available to guests staying at the Sofitel Fiji Resort and Spa on Denarau Island. Resort Check-in offers Fiji Airways' passengers the option of checking in themselves and their bags in the hotel lobby before they travel to the airport. The bags are then transferred to Nadi International Airport and the next time passengers see their luggage is on the reclaim belt at their destination airport.
As passengers don't have to worry about getting their suitcases from the hotel to the airport, upon arrival at the airport they can bypass the check-in process and head straight to security. The carrier expects more resorts to offer the service in the future.
Easing departure day stress
Ahead of the permanent implementation, Fiji Airways piloted Resort Check-in and received an "overwhelmingly positive" response from passengers during the trial phase. The feature was also activated during the Fiji International Golf tournament at Natadola and the Pre-COP 23 convention at the Sheraton Fiji Resort in October.
Explaining the thinking behind the service, Chalmers said: "We'll take the bags at the point that the customer checks out of their hotel room, so they're then free to go back to the pool or enjoy some lunch, for example, before leaving. You can get some real value out of that last day if you don't have to worry about your luggage.
"With Resort Check-in we can take away some of that departure day stress. It also helps us because if we can get more people taken care of ahead of coming to the airport, they'll be in a better frame of mind, their journey home will be off to a good start, and I believe they will carry that (positivity) on to the aircraft."
Ancillary revenue opportunity
The service, which is similar to Disney's Resort Airline Check-in Service in Orlando, is available for free, but Chalmers explained that Fiji Airways could still stand to gain financially. "One of the things that came out of the trial was that people were a lot more receptive to buying add-on products (such as extra leg room seats) at the hotels than they are at the airport."
This, he said, could be a result of customers feeling more "liberated" by having check-in and bag drop taken care of before even leaving their hotel.
With the launch of Resort Check-in, Fiji Airways may just have found a sweet spot between simplifying the travel experience and boosting ancillary revenues.