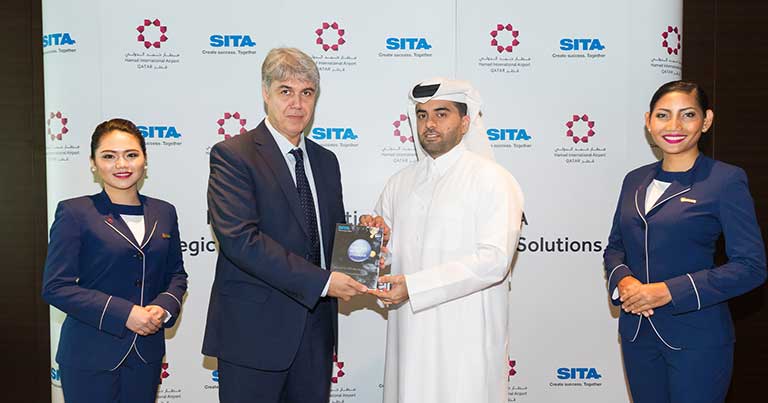 Hamad International Airport (HIA) has revealed its plans to tap into a variety of new and emerging technologies as part of its "Smart Airport" vision.
HIA and SITA have signed a Memorandum of Understanding (MoU) which provides the framework for the two organisations to implement or trial biometrics, robots, blockchain, augmented reality (AR) and virtual reality (VR) technology solutions at the Doha hub airport.
The main focus of the MoU is to advance HIA's plans to implement seamless identity management across all key passenger touch-points using biometrics. The formalisation of the partnership follows last year's pilot of biometric exit checks.
'Your face becomes your passport'
According to Suhail Kadri, Vice President Information Technology, Hamad International Airport, the implementation of biometric technology will help to "enable us to become a fully digital airport".
Today, passengers departing from HIA have to show their boarding pass and/or passport at multiple touch-points but the use of facial recognition technology will remove the need to present physical documents.
Kadri explained: "Once you've registered the first contact at the airport, from then onwards all you need to do is show your face at check-in, self-bag drop, pre-border control, immigration and ultimately at the boarding gate.
"This, if you imagine, will completely transform how you experience the airport today," he added. "Your face becomes your passport."
Common-use kiosks and self-tagging
It has also been revealed that SITA will be supplying and commissioning 62 of its latest-generation common-use check-in kiosks with self-tagging capabilities, as well as e-gates prior to border control in departures. Initially, three kiosks and e-gates will be able to use biometric technology to identify passengers, while biometric sensors and readers can be added to the others at a later date.
Engr. Badr Mohammed Al Meer, Chief Operating Officer, Hamad International Airport, explained that biometric-based passenger processing will also deliver benefits to the airport and its partners. "The use of biometrics as the only verification required at each passenger touch-point along the airport journey will go a long way in improving the flow of passengers, providing a better travel experience as well as greater operational visibility for the stakeholders."
The MoU also lays the foundations for future trials to evaluate the effectiveness of robots for passenger facilitation, blockchain technology for rapid and secure sharing of data across stakeholders, and the potential use of augmented and virtual reality for operational concepts.