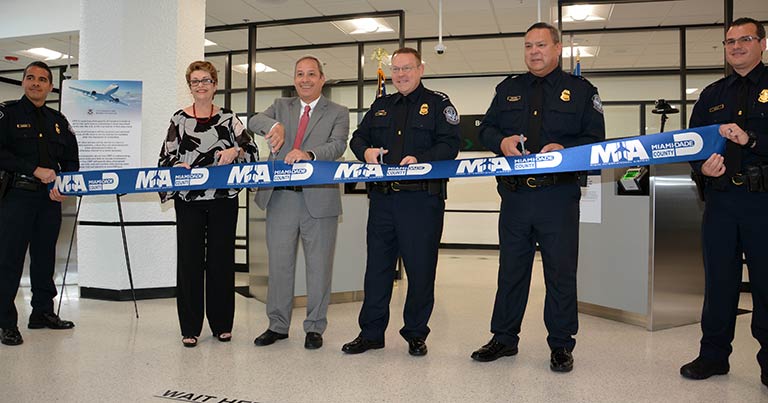 Miami International Airport (MIA) and U.S. Customs and Border Protection (CBP) have celebrated the opening of the newly renovated Concourse E federal inspection facility for international arrivals. The facility makes use of facial recognition technology to secure and expedite the passport inspection process.
A facial recognition pilot programme has been in place since November, and during the pilot the Concourse E facility has been screening as many as 10 passengers per minute. The new facility also reduces the walking distance for Concourse E and F passengers who previously only had access to the Concourse D passport hall – decongesting one of the country's busiest arrivals facilities.
"Miami International Airport, in partnership with CBP, has introduced yet another cutting-edge enhancement that improves the international arrival experience for visitors to our community," said Miami-Dade County Mayor Carlos A. Gimenez. "Congratulations to the Miami-Dade Aviation Department and our federal partners for continuing to simplify passport screening at Florida's busiest international gateway."
Miami-Dade County Commissioner Rebeca Sosa, Chairperson of the County's Economic Development and Tourism Committee, added: "Aside from welcoming 96% of all visitors to Miami, our airport also welcomes 70 percent of international passengers to Florida. With improvements like the new Concourse E passport clearance facility, MIA continues to deliver on its commitment to providing a world-class experience for travellers."
The Concourse E facility follows another immigration innovation launched by MIA in 2017. Last August, MIA launched an update to the MIA Airport Official app that allows users to seamlessly access Mobile Passport Control and CBP forms without leaving the app. The rollout earned Miami International Airport the 'Best Immigration Initiative' award in the 2017 FTE Global Awards.